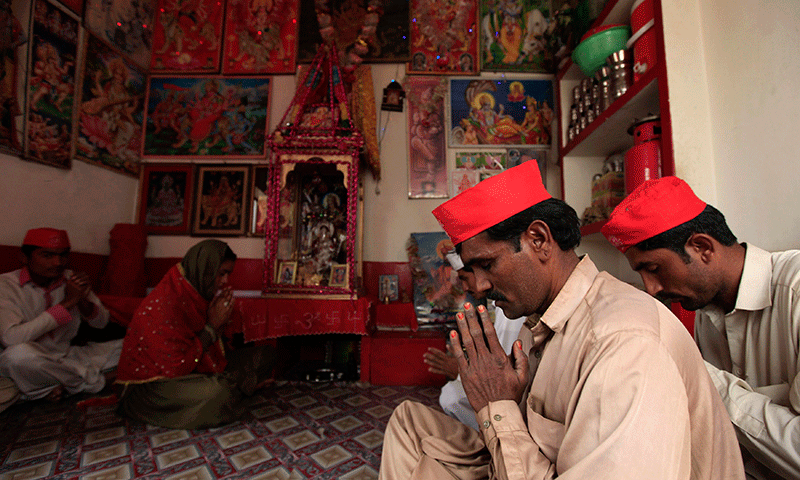 ---
In a welcome move, the government of Pakistan has handed over a 200-year old temple to its rightful owner: the country's Hindu community. Located in Zhob district of Balochistan, the temple had been illegally occupied in 1947 following partition. For the past 30 years, the four-room temple was also used as a government school but it was vacated last year, and the school was relocated.

The keys to the temple were handed over to Hindu community leaders by Maulana Allah Dad Kakar, a local religious scholar, and leader of Jamiat Ulema Islam at a ceremony held outside the building. Saleem Taha, Zhob's deputy commissioner, apologized for the 72-year delay in handing over the temple to the Hindu community but made assurances that the building would be restored to its original condition.

The move – hailed by the Hindu community ­– comes on the heels of an Indian Supreme Court ruling last November handing over the site of the historic Babri Mosque to Hindus for the construction of a temple following a prolonged legal battle.

On December 25, just a few months after being elected to office in July polls, Prime Minister Imran Khan said in a Twitter post that his government would "ensure that our minorities are treated as equal citizens."

The latest development is part of government plans to reclaim and restore 400 temples across the country illegally occupied by land grabbers and return them to Hindus. A survey conducted across the country found there were 428 Hindu temples at the time of Partition and 408 of them were encroached upon after 1990. According to a recent government estimate, at least 11 temples in Sindh, four in Punjab, three in Balochistan and two in Khyber Pakhtunkhwa were operational in 2019.

Last year, the government said that it had decided to reopen Hindu temples across the country in phases, fulfilling the longstanding demand of the Hindu community that their places of worship be restored to them. When Hindus left Pakistan during partition and in the mid-60's, many temples were lost to encroachment. Even in places where some Hindu families stayed back, some influential people occupied temple land.

The process to reclaim temples began with two historic shrines in Sialkot and Peshawar. Sialkot has a functioning Jagannath Temple and now the 1,000-year-old Shivalaya Teja Singh is being restored. Hindus had stopped visiting the Shivalaya (shawala) after a mob attack during Babri mosque demolition protests in 1992.

In Peshawar, courts had ordered reopening of the Gorakhnath Temple and it has been declared a heritage site. From now on, two to three such historic and heritage temple complexes will be restored by the government of Pakistan every year.

This week we are told of another encouraging development. PTI has suspended the general secretary of its Lahore chapter over posters that featured an insulting slogan targeting Hindus. Mian Akram Usman put up the poster in connection with Kashmir Solidarity Day, which insulted the Hindu community.

In the show-cause notice to Mian Akram after his suspension, the party noted that the words that appeared on the posters violated the party's policy. Mian Akram Usman has, in turn, blamed the printer for the derogatory posters, saying he had wanted to target Prime Minister Narendra Modi but the printer "mistakenly" substituted Modi's name with the word "Hindu" "I apologise [to] all peaceful Hindus living on both sides of the border. All posters [were] removed immediately when they came [to] my notice. I'm not the one who [is] stuck on mistakes," Mian Akram Usman tweeted.

Human Rights Minister Shireen Mazari in a tweet said Mian Akram Usman had been "reprimanded and posters were taken off immediately". Mazari termed it "a shameful and ignorant approach by the individual".

Both the restoration of temples and the punishment of individuals who indulge in hate speech are encouraging developments and must be appreciated. At the same time other demands of the Hindu community need to be looked at with urgency. The most pressing issue is the forceful conversion of Hindu girls and their marriage to Muslim men. This is an practice that continues to bring a bad name to the country and causes much scare in the religious minority. Hundreds of girls have fallen victim to this practice. We need to put an end to it.

Published in The Express Tribune, February 10th, 2020.

Like Opinion & Editorial on Facebook, follow @ETOpEd on Twitter to receive all updates on all our daily pieces.
COMMENTS
Comments are moderated and generally will be posted if they are on-topic and not abusive.
For more information, please see our Comments FAQ