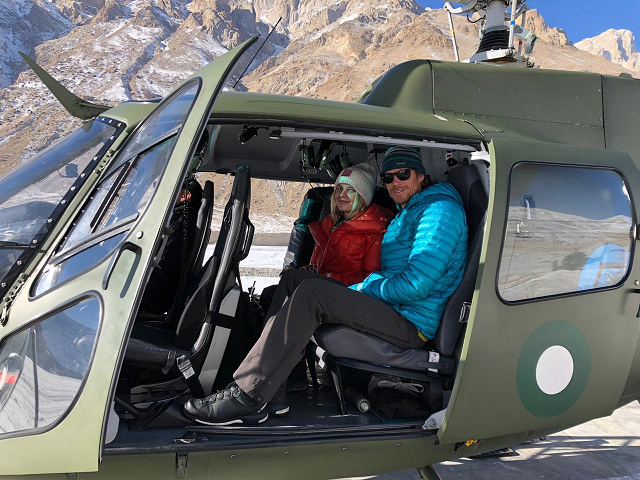 ---
ISLAMABAD: Pakistan Army has rescued two foreign climbers trapped in the country's eastern Karakoram mountain range in the Himalayas, the ISPR announced on Sunday.

"Pakistan Army Aviation pilots rescued two foreign mountain climbers, Mr. Donald Allen Bowie (USA) and Ms. Lotta Henriikka Nakyva (Finland) from Broad Peak, Baltoro Glacier … part of an International Winter Expedition attempting to summit Broad Peak but stranded en route due to sickness," said Inter-Services Public Relations (ISPR), the army's media wing.

Broad Peak, also known as K-3 – the world's 12th-highest peak, towering 8,051 meters (26,414 feet) – is located in the Karakoram range about 8 km from K-2. It has a summit of over 1.5 km long, and thus is known as Broad Peak.

The Siachen Glaciers region, known as the world's highest battlefield, are located in the eastern Karakoram mountain range in the Himalayas, huddled next to the borders of Pakistan, India, and China.

Every year foreign mountaineers visit the region, also called the "mountaineers' paradise," as five of the world's 8,000m-plus peaks are located in northern Gilgit-Baltistan region of the country, including K-2, the world's famed second-highest peak.




Last year, two British mountaineers trapped near the Koyo Zom peak in the Chitral district were retrieved by Pakistan's army.

Koyo Zom, the highest peak in the Hindu Raj range with a summit at over 6,700 m (22,000 ft), is located between the Hindu Kush and Karakoram ranges at the boundary of the Khyber Pakhtunkhwa and Gilgit-Baltistan provinces.

In 2018 French mountaineer Elisabeth Revol was rescued from Nanga Parbat, after becoming trapped there while trying to summit the peak.

Nanga Parbat, also known as "Killer Mountain" – the world's ninth-tallest mountain with a height of 8,126 m (26,660 ft) – is located in the Himalayan range. It has never been climbed in the winter.

Last Wednesday the French government awarded medals to the Pakistan Army Aviation pilots who rescued Revol.

"Rear Admiral Didier Malterre, Commander of French Joint Force in Indian Ocean, conferred France National Defence Bronze Medal to brave pilots of Army Aviation who took part in the daring rescue operation," said the ISPR.


COMMENTS
Comments are moderated and generally will be posted if they are on-topic and not abusive.
For more information, please see our Comments FAQ