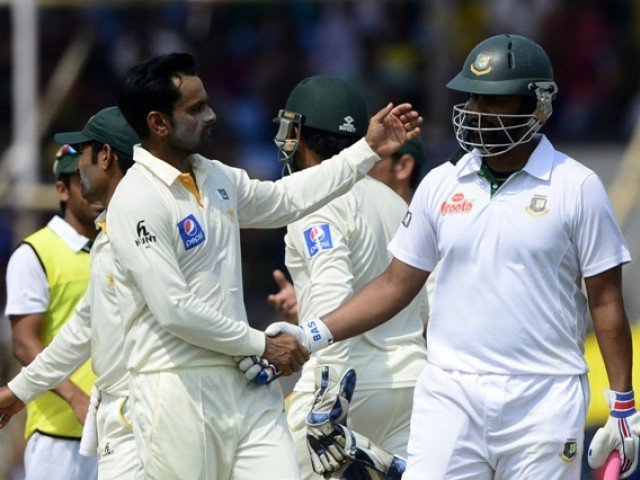 ---
RAWALPINDI: As the Bangladesh team arrived in the federal capital on Wednesday, ahead of the international test match which commences on February 7, a security plan for the match showed that over 5,000 security personnel will be deployed in and around the Rawalpindi cricket stadium.

The security plan, issued by the Rawalpindi police ahead of this week's test match, notes that stringent security will be ensured during the five-day event.

Apart from police officers from the district, reinforcements from other parts of Punjab have also been sought.

The plan said that buses of both teams will be escorted from the hotel to the stadium and vice-versa under a strict security cordon.

Before entering the stadium, fans will be subject to stringent security checks, including passing through walkthrough gates followed by checks using metal detectors and frisking.  Women police officers will be deployed to check female spectators.

The security plan also includes the deployment of snipers atop the stadium building and all nearby buildings.

Security officials have been instructed to report to their duty points in advance and to remain there until they receive orders to leave their posts from senior officials. The on-duty personnel would be given food and water at their duty points along with pick-and-drop facility.

Security around the city

Meanwhile, the district administration has been given the responsibility for ensuring security around the city, including checking of vehicles entering or leaving the city.

All SHOs have been directed to carry out search operations against criminal elements within their respective jurisdictions ahead of the test match.

Traffic plan

The City Traffic Police (CTP) has also issued a traffic plan which would be followed during a five-day match to save people from any trouble.

According to the plan, the Double Road will remain closed for vehicular traffic from morning until evening from February 6 to 11.

The Rawalpindi City Traffic Officer (CTO) has urged road users to cooperate with traffic police personnel performing duties during the match.

Providing details of the plan, a CTP spokesperson said that traffic coming from Rawal Dam in Islamabad towards Rawalpindi will be diverted on to the Expressway during the five days between February 6 to 11.

Traffic will enter Rawalpindi via Dhoke Kala Khan, Khanna and Koral. Traffic from Rawalpindi travelling to Islamabad will have to take a U-turn in front of the Kidney Centre and use the opposite side to enter Islamabad.

Traffic coming from the IJ Principal Road and Ninth Avenue Chowk towards Rawalpindi will take the Pindora Chungi Katarian, Carriage Factory, Pirwadhai route to enter Rawalpindi, instead of Double Road.

Heavy traffic will be strictly prohibited in the area around the stadium. Cricket fans have been urged to park their vehicles at the designated parking to avoid any inconvenience.

WITH ADDITIONAL INPUT FROM APP

Published in The Express Tribune, February 6th, 2020.
COMMENTS
Comments are moderated and generally will be posted if they are on-topic and not abusive.
For more information, please see our Comments FAQ