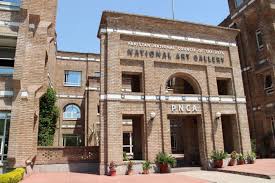 ---
ISLAMABAD: Visual artist, curator, and Lahore Art Foundation Trust (LAFT) Director Saba Hussain delivered a lecture on 'Negotiating the Third Space', at National Art Gallery, Islamabad.

The lecture was part of Pakistan National Council of Arts' (PNCA) efforts to promote art education and provide guidance to young students in the field. Hussain shared her experiences with the participants, mostly comprising of young artists and students, talking about her field of interest, especially realistic imagery, and abstract art.

She told them that she was inspired by Urdu and Persian poetry, particularly that of Mirza Ghalib, Faiz Ahmed Faiz, Maulana Jalaluddin Rumi and Noon Meem Rashid. Her expression reveals itself through prints, handmade paper, mix media and illustration. The participants were provided knowledge about different mediums in the field of art.

Published in The Express Tribune, February 5th, 2020.