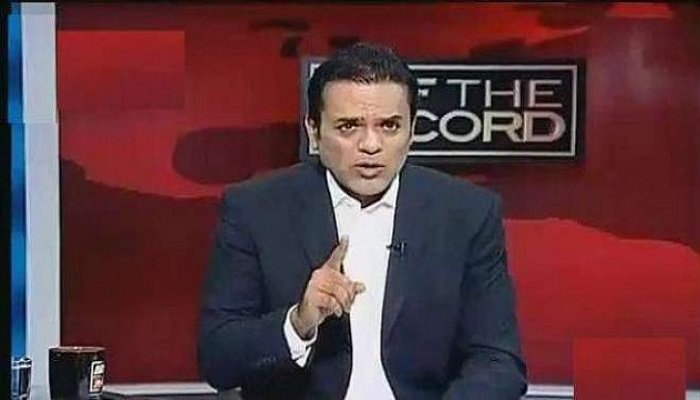 ---
Pakistan Electronic Media Regulatory Authority (Pemra) on Thursday banned the broadcast of 'Off The Record' on ARY News for 60 days after Minister for Water Resources Faisal Vawda brandished a military boot on the show.

Appearing on the show alongside PML-N Senator Javed Abbasi and PPP leader Qamar Zaman Kaira, the federal minister brought out a military boot to mock his political opponents - Pakistan Muslim League-Nawaz.

"PML-N has changed its political narrative … it now seeks 'respect for boot' [instead of 'respect for vote']," the minister said.

Pemra banned TV host Kashif Abbasi from appearing on television - as a guest, analyst or expert - for 60, calling him "unprofessional" for not intervening to stop the minister.

Vawda mocks PML-N by brandishing 'military boot' live on television

The notice also stated that non-compliance may result in suspension.

According to the notice, the action of the host is in violation of clauses 3(l)(e,j), 4(7)(b), 4(10), 5, 13 and 17 of Electronic Media (Programmes and Advertisements), Code of Conduct, 2015, read with Section 27(a) of PEMRA Ordinance 2002 as amended by PEMRA (Amendment) Act 2007.

On Tuesday, the minister mocked PML-N leaders for "unconditionally" supporting the recently passed army amendments bills in the Parliament.

"From now on, I will bring this [boot] in every talk show… this shows how democratic the PML-N really is … they now honour the boot by lying and licking [it]," he said.

The PTI leader further claimed that the PML-N stood exposed before the masses as it "ditched" the public after its leaders including former prime minister Nawaz Sharif and party president Shehbaz Sharif "escaped to London in the guise of medical treatment".
COMMENTS
Comments are moderated and generally will be posted if they are on-topic and not abusive.
For more information, please see our Comments FAQ