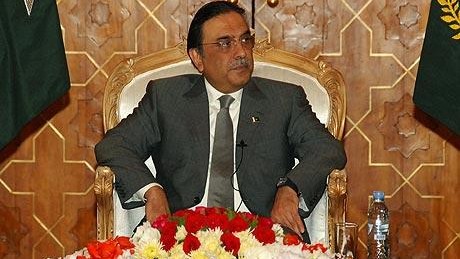 ---
LAHORE: A full bench of the Lahore High Court has resumed hearing on Tuesday of three identical petitions challenging dual offices held by President Asif Ali Zardari.

The bench, headed by Justice Ijaz Ahmad Chaudhry, held the proceedings on Monday of petitions filed by the Pakistan Lawyers Forum, Engineer Ghulam Jilani and Advocate Asif Mahmood Khan.

AK Dogar, counsel for the Pakistan Lawyers Forum, argued that under the Constitution, the president could not head the state and a political party simultaneously, and that Zardari should immediately quit one office. Holding two offices, Dogar said, amounted to subversion of the Constitution.

The petitioners' counsel submitted that President Zardari held the offices of the co-chairman of Pakistan People's Party (PPP) and that of the President of Pakistan, which violated Article 41 (1) of the Constitution which declares the president as the head of the State and a symbol of the unity of the Republic. He said that he had already sent a notice on Sept 25 last year to Zardari, demanding him to surrender the co-chairmanship of the PPP but there had been no action. The President holds the office as a co-chairman with his son Bilawal Bhutto Zardari.

Dogar said that the President was the head of the state, not the head of the government and could not participate in politics. Referring to a Supreme Court judgment, Dogar said that in the case of Nawaz Sharif vs President of Pakistan (1993) it was held: "Now, the president as the symbol of the unity of the federation is entitled to the highest respect and esteem by all the functionaries of the state. But it is equally true that this respect and esteem will be forthcoming if he conducts himself with utmost impartiality and neutrality, that he keep himself entirely aloof from party politics and does not give the impression to anyone that he is siding with one faction or working against the other."

A written reply to these petitions was submitted on behalf of the federal law ministry in which it was stated that there was no constitutional bar on President Zardari to hold the office of co-chairman PPP as it was not a profitable office.

Published in the Express Tribune, June 15th, 2010.