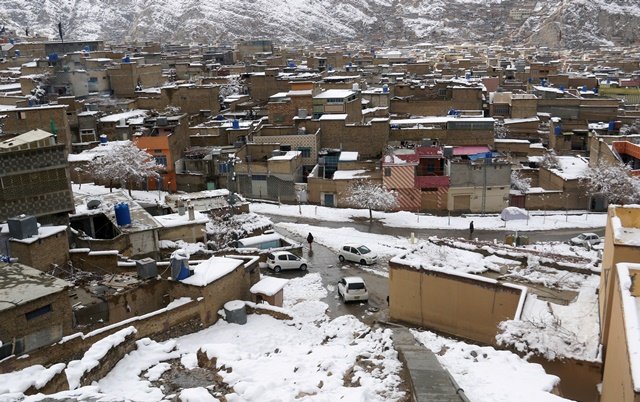 ---
MUZAFFARABAD/ QUETTA: Over 100 people are dead and many more injured as the scale of ongoing calamitous snowfall unfolded on Tuesday with most deaths confirmed in a remote valley of Azad Jammu and Kashmir (AJK) where volatile snow triggered multiple avalanches with deadly consequences.

Pakistani military has mobilised its troops and helicopters to help civil authorities evacuate stranded people, clear clogged roadways and airdrop relief items in the remote valleys ahead of a fresh spell of heavy snow expected on Friday.




Until Monday night, officials would confirm 20 deaths in AJK, but the toll soared to 75 overnight. "We can confirm 59 people have died – mostly in avalanches," Raja Mahmood Shahid, the deputy commissioner of Neelum Valley, said on Tuesday. "Forty-six people died in the Surgan Bakwali area alone."

Over 75 people killed as severe cold wave grips country

According to AFP, the State Disaster Management Authority gave a death toll of 62, with another 10 people missing – and presumed dead. The state-run APP reported on the authority of AJK government sources that 75 people have died in all: 69 in Neelum Valley and one each in Kotli, Rawalakot and Sudhanoti districts.




A gigantic mass of snow rolled over a village in the Surgan Bakwali area of Neelum, burying more than two dozen houses under tons of ice. Survivors dug through the snow mass with bare hands, shovels or whatever they could find to retrieve at least 50 bodies. An unspecified number of villagers are still buried underneath.




Casualties are expected to rise once rescuers arrive by helicopter – the only way to reach the remote valley. Deputy Commissioner Shahid said the ravaged valley is not accessible by road as all land routes are clogged. It's also perilous to fly helicopters as the snow is too unstable for them to land on.




However, he said that Army Aviation helicopters – one each from Rawalpindi and Muzaffarabad – have been sent to airdrop food and non-food items for the avalanche survivors.




Abdul Rahman Sheikh, 62, said an avalanche had buried his home and seven others in his village on Monday, according to a New York Times report. He dug through the snow until midnight to rescue his family, recovering his daughter-in-law — who survived with injuries — and the frozen bodies of eight other family members.

He decided to bury the dead first. "I have eight dead bodies lying in the open. If I send her to the hospital, who will look after her there? And if I go along with her, who will bury the eight bodies?" Sheikh asked mournfully.




Schoolteacher Asif Iqbal said he heard a rumble and a crash Monday afternoon and looked outside to see rooftops of nearby houses barely peeking up from the snow.

According to preliminary assessments, 52 houses have been destroyed and 82 damaged in the Neelum Valley region, according to Deputy Commissioner Shahid. Seventeen shops, one mosque, seven vehicles, and three motorcycles have also been swept away by the avalanche.

"The severe snowfalls and landslides in AJK have caused misery and deaths," Prime Minister Imran Khan said in a Twitter post on Tuesday. "I have asked the National Disaster Management Authority [NDMA], the military and all our federal ministers to immediately provide all humanitarian assistance on an emergency footing to the affected people in AJK," he added.

Army helicopters are busy in rescue and relief operations in the areas of Sharda, Surgan Bakwali and Taobat, the military's media wing said. "Pakistan Army Urban Search & Rescue teams are evacuating stranded population, doctors & paramedics, tents, blankets, rations and medicines being provided to the affected families," it added.

Frequent avalanches and landslides occur in the Kashmir region during the winter, often blocking roads and leaving communities isolated.




Balochistan

Balochistan remained enveloped in a blanket of snow on Tuesday with meteorologists saying freezing cold would further intensify over the next 48 hours. Authorities, meanwhile, scrambled to unclog roadways and reach motorists and travellers stranded out in the open in subzero temperatures.

At least 31 people have been killed in weather-related incidents, an official of the Provincial Disaster Management Authority (PDMA) said. Other officials gave a much lower toll of 21.

"Most of those who died were women and children," the PDMA official, Mohammad Younus, said, adding that hundreds remained stranded.

The authority is assessing damages in the province, where it has already declared a state of emergency in seven districts and sought the military's help for relief and rescue operations.

Key highways connecting Pakistan and Afghanistan were blocked due to heavy snow, forcing officials to suspend transportation of essential goods into the neighbouring country, where severe cold and heavy snow led to the death of 39 people in six provinces in the past two weeks.

Rescue operations carried out by the local administrations, Frontier Corps, Levies and the PDMA were completed in Muslim Bagh and Kan Mehtarzai.

More than 500 people and 80 vehicles were evacuated, but the ground link to and from Kan Mahatrzai, Ziarat, Toba Achakzai, Toba Kakri and Rood Mullazai remained severed because of the accumulated snow.

"After 5 days, the road links of the province with the rest of the country are restored," said PDMA Director General Imran Zarkoon said. "Quetta-Chaman, Quetta-Zhob, Quetta-Karachi and Quetta-Sibi highways were re-opened for traffic."

Chief Minister Jam Kamal said Lak Pass and Khojak Pass were closed for heavy traffic. "Various roads in the snow-hit areas are still closed for heavy traffic on the advice of the PDMA," he added. "Kan Mehtarzai is severely affected by the snowfall."

Extreme cold weather is likely to strengthen its grip over the next 48 hours, as forecasts suggest harsher weather is on the way. The Met Office on Tuesday issued a warning, highlighting the risk of closure of inter-city roads due to heavy snowfall and rains.

The Met Office forecast heavy snowfall and rains in Neelum, Bagh, Haveli, Rawalakot, in AJK, Astore, Hunza and Skardu in Gilgit-Baltistan, and Swat, Kohistan, Shangla, Buner, Mansehra, Abbottabad, Galiyat, districts of Khyber-Pakhtunkhwa, as well as hilly areas of Punjab.

(With input from agencies)
COMMENTS
Comments are moderated and generally will be posted if they are on-topic and not abusive.
For more information, please see our Comments FAQ