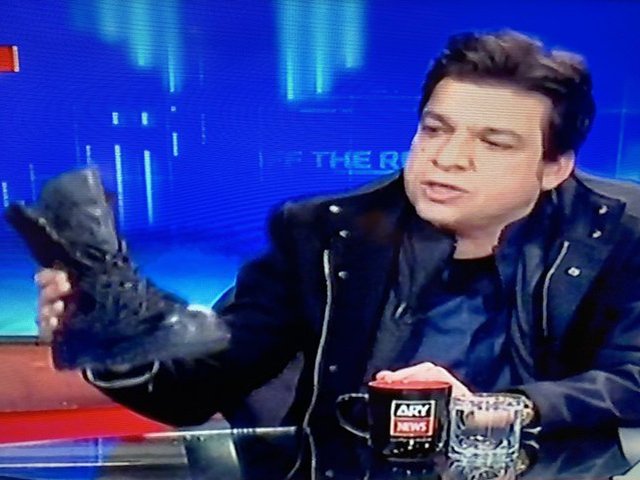 ---
KARACHI: Federal Minister for Water Resources Fasial Vawda, in shocking series of events, brought a military boot in a TV talk show on Tuesday to mock his political opponents -- the Pakistan Muslim League-Nawaz (PML-N).

Speaking in an ARY News show, he said: "PML-N has changed its political narrative … it now seeks 'respect for boot' [instead of 'respect for vote']".

The opposition party had to leave its longstanding "fight for supremacy of vote" after it announced its "unconditional" support for the passage of services chiefs' bills earlier this month.

Several PML-N leaders are of the view that the party had to pledge its support for the bills as its voters were not strong enough to put their strength behind the party.

Commenting on the PML-N slogan "vote ko izzat do" (give respect to vote), a senior partly leader, on the condition of anonymity, recently said that the narrative had only brought hardships for the Nawaz league.

He claimed the voters of Nawaz-league were not as mature as were those in Turkey and India and were not ready to put up fight with powerful elite.

PTI minister wants the corrupt to be dragged on streets, hanged

PML-N Senator Javed Abbasi and PPP leader Qamar Zaman Kaira were the other guests in tonight's show.

Vawda mocked the PML-N leaders for "unconditionally" supporting the recently passed army amendments bills in the Parliament.

"From now on, I will bring this [boot] in every talk show... this shows how democratic the PML-N really is ... they now honour the boot by lying and licking [it]," said the firebrand politician, who is known for making provocative remarks against his opponents.

The PTI leader further claimed that the PML-N stood exposed before the masses as it "ditched" the public after its leaders including former prime minister Nawaz Sharif and party president Shehbaz Sharif "escaped to London in the guise of medical treatment".

"Maryam Nawaz and Nawaz Sharif should tell their supporters loud and clear that they have stoop so low that they would respect the boot to save themselves from accountability and corruption charges."

Both the PML-N and the PPP leaders left the programme in protest against the minister's "inappropriate conduct".


😲😲🧐🧐🤔🤔 pic.twitter.com/wJnXtm2Osw

— omar r quraishi (@omar_quraishi) January 14, 2020


last year, while addressing a National Assembly session in Islamabad, Vawda said the corrupt and money-launderers should be tied and dragged behind a vehicle before being hanged.

Before this he had also suggested to "hang 5,000 people to transform the future of 220 million-strong nation".