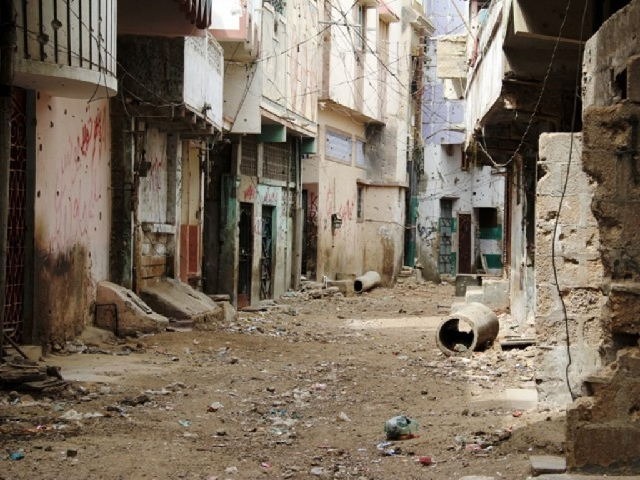 ---
KARACHI: As the Pakistan Peoples Party (PPP) competes with Pakistan Tehreek-e-Insaf (PTI) to get its stronghold in Lyari back, the oldest town in the metropolis, sometimes even referred to as the 'mother' of the port city, may finally get new roads, pedestrian bridges and water and gas pipelines.

The roads around Lea Market and Kakri Ground, as well as parts of Shah Abdul Latif Road and Mirza Adam Khan Road, have been repaired and carpeted. Rapid construction work is underway on Shah Waliullah Road and Siddique Wahab Road too.

Residents of the area say water and gas supply lines are also being either replaced or repaired. Looking forward to the locality's new look, they said a better Lyari would emerge soon.

"I don't care who launches the projects, but they are beneficial for us," commented Abdul Karim Baloch, a Lyari resident. "We had no proper roads, and the area was in worse shape than a slum. Construction is always good, though, and it will reshape the entire locality."

Baloch, who had voted for PTI in the 2018 elections, said that he would rethink his support in the next round of polls. "I am not an ideological voter," he stated. "I support leaders who deliver and prove their efficiency with their actions."

In Karachi, industrialists stage sit-in over gas load-shedding

Lessons learnt by PPP?

Meanwhile, Dawood Adam, another resident, said that he had not seen development across the locality before. "I think PPP is preparing for the local government elections," he smiled. "But I am happy that at last something good is happening here."

Noting that development was better than the crime Lyari has long been known for, he said he could see that PPP was in competition with another party. "I don't see PTI's presence anywhere," he observed. "It's like PPP used to be, disappearing once the elections are over."

Adam said that change was always welcome, adding that while he appreciated the construction of roads, he requested the government to also address issues such as the dearth of clean water.

The sight of the development work was a new one for Shoaib Muhammad Hussain too. "Roads are being repaired, water lines are being replaced, work on gas lines is underway and everybody is talking about new projects," elaborated the resident of Phool Patti Lane. "But PPP and PTI have to keep a check and ensure that high-quality work is being done."

He added that the political parties had to focus on long-term development projects. "Short-term projects and media publicity will not serve us," he asserted. "We are not in the 80s or the 90s anymore. People have strong voices and reach through social media. They will expose whoever tries to mislead voters."

Writer and social activist Ramzan Baloch could feel positivity in the air of Lyari. "Things are changing for the better in this old area of the city after a very long time," he said.

There was no alternative to the PPP here before 2018, he pointed out. "PPP leaders believed they would always have Lyari, but their calculation was wrong," he added. "PPP has learnt a lesson but I think Lyari needs more time and attention now. You [political leaders] cannot deceive the voters."

The activist noted that despite PTI's shock triumph in Lyari in the polls, it had failed to deliver for the residents. "We have not seen any of them here since the general elections."

Independence of institutions vital for progress: PM Imran

PTI to deliver - soon

PTI MNA Shakoor Shad said that his party was not in competition with the PPP, adding that he would be pleased if someone was really thinking about the people of Lyari.

Shad, who has been criticised by his voters in the area, disclosed that different development projects, worth Rs400 million, were in the pipeline. "I do care about my voters and will soon launch projects for them," he insisted.

Sharing details, he said that the existing gas pipelines had been constructed during the tenure of former prime minister Zulfikar Ali Bhutto. "We are going to replace them and build two more pedestrian bridges on Mauripur Road," he added.

Special directives

Sindh Minister for Information, Archives and Labour Saeed Ghani confirmed that all 12 main roads in Lyari were being repaired and carpeted for the first time. However, he denied that his party had ignored Lyari when in power, saying that they had sanctioned a number of development schemes in all previous PPP governments.

Speaking to The Express Tribune, he said that provincial government had been directed by PPP chairperson Bilawal Bhutto Zardari to focus on Lyari with these projects.

He disclosed that Lyari's sewerage problems would be resolved soon too, while Jamila Pumping Station, constructed before Partition, would be reconstructed.

For Ghani, the biggest issue being faced by Lyari's people was the lack of potable water. He said that the main water line from Gulshan-e-Iqbal was being replaced by an over-the-ground line, in order to resolve the problem as well as discourage illegal connections.

Published in The Express Tribune, January 14th, 2020.