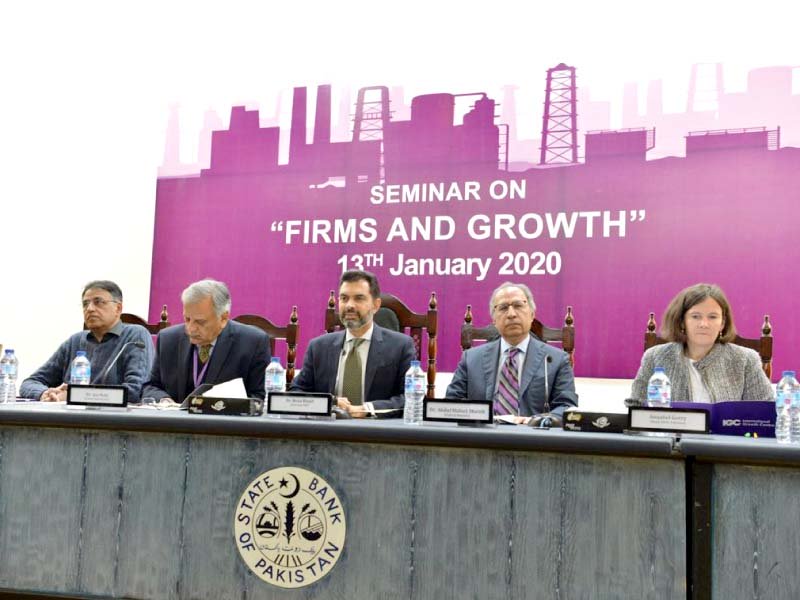 ---
KARACHI: There is a need to shift from an inward oriented approach to an outward oriented economy that emphasises exports to achieve high and sustained growth, said State Bank of Pakistan Governor Reza Baqir.

Addressing a seminar on 'Firms and Growth', on Monday, he illustrated in his presentation the inward oriented focus of Pakistan's historical economic growth that has relied primarily on domestic consumption.

He elaborated that Pakistan's competing countries have relied to a larger extent than Pakistan on exports as an engine of growth. He noted that the top 25% of emerging markets and developing countries have grown at an average rate of 7% since 2001. To reach this average growth rate it was critical for Pakistan to achieve significantly higher export growth.

The event was organised jointly by SBP, the International Growth Centre (IGC), Consortium for Development Policy Research (CDPR), and the Pakistan Business Council (PBC) at the SBP.

Amongst other issues, Baqir also discussed two considerations in determining the outlook for exports: exchange rate and export diversification.

On the exchange rate, he noted that addressing exchange rate overvaluation has helped boost the country's exports. He also added that while the exchange rate had done its part more fundamental growth in exports needed to come from structural reforms beyond the exchange rate.

In this context, Baqir also contrasted the experience of different countries with export diversification. He said that Pakistan's exports had largely remained concentrated in very few sectors. Furthermore, Pakistan's exports began to decline starting around 2012.

Citing examples of some successful exporting countries, he emphasised on the need to go beyond the traditional commodities of textile and agriculture and the importance of export diversification.

Also speaking on the occasion, Adviser to PM on Finance Abdul Hafeez Shaikh discussed measures being taken by the government to improve the business environment.

He also emphasised the role of export diversification and that the government was committed to work in partnership with the private sector to address the factors which had previously constrained Pakistan's growth.

Addressing the seminar, Minister for Planning, Development and Special Initiatives Asad Umar spoke about the commitment of the new government to improving job creation and competitiveness.

He said that there was a need to put an end to the several policy biases of the government. He highlighted governments' protection of uncompetitive sectors over the past many years which remained detrimental to economic growth.

Earlier, speaking at a session on 'Moving from an Inward- to an Outward-looking Economy', IGC Country Director Ijaz Nabi stressed the importance of improving the export strategy to ensure sustainable growth, and the role of fiscal responsibility to avoid recurrent external account crises.

Published in The Express Tribune, January 14th, 2020.

Like Business on Facebook, follow @TribuneBiz on Twitter to stay informed and join in the conversation.