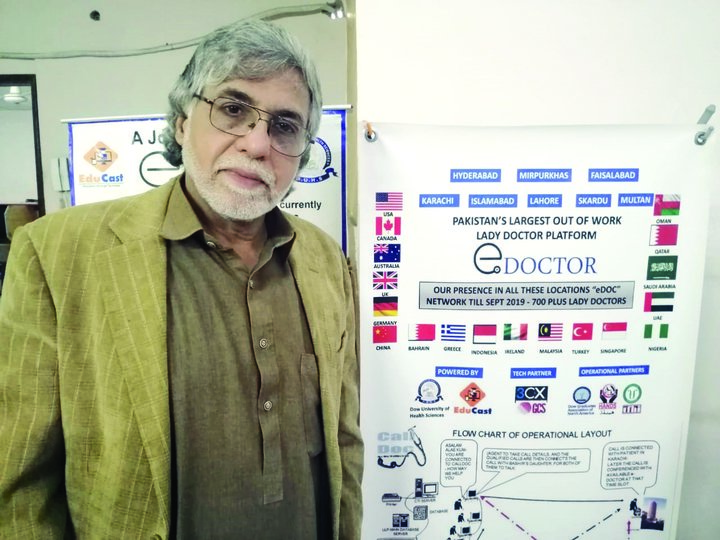 ---
KARACHI: Pakistan is one of the unfortunate countries that face a dearth of doctors and even more so, female doctors in particular. Abdullah Butt, an engineering graduate turned entrepreneur delivering IT solutions across a wide spectrum of industries and sectors, came to this realisation when he had to return to Pakistan from Dubai to look after his ageing and ailing parents.

His mother had developed a heart disease. The more complex her treatment in the country became, Butt's realisation of all that was wrong on the field of medicine in Pakistan grew. However, of visionary mind and enterprising nature, he saw an opportunity rather than the gap. An opportunity to bridge the widening gap between healthcare facilities and patients. An opportunity to employ his expertise in IT for making access to healthcare easier. And an opportunity to serve the people.

The Quintessential Karachiite: A dark world, a brighter future

Identifying the problem

But why would a thriving entrepreneur like Butt take up the responsibility for accomplishing such a tall order? Probably because someone just had to. And more importantly, because the fact that there is just one doctor for every 1,000 patients in Pakistan is a harsh truth that grips the healthcare sector and calls for attention on an urgent basis.

Digging deeper into the problem, one comes across the haunting reality that most medical graduates in the country simply don't practice - one of the main factors contributing to the growing scarcity of doctors. To add to it, a majority of non-practicing doctors are females, which is a matter of grave concern in context of the already dire state of female health in the country.

Many female medical graduates have to discontinue practice after marriage, for various reasons. Other doctors leave the country, adding to another burgeoning issue - that of brain drain.

Innovating a solution

To Butt, who had returned to his home country after years of running a business in Dubai, this seemed odd initially, and problematic later, as he realised the gravity of the situation.

Having a bachelors in electronic engineering and vast experience to delivering IT solutions to media houses in Pakistan and then in a wide array of sectors across the world, he was acclaimed for his feats in the area of telecommunications. Now, the only thing needed for an effective solution to the problem was thinking a little out of the box. Which he did, creating eDoctor - a platform that opened doors for non-practicing female doctors to acquire medical training online.

The idea was inspired by one of his earlier projects pertaining to the development of an online application to allow remote learning among children.

Making a breakthrough

He worked on a similar idea for female doctors and pitched it to the government, non-governmental organisations and healthcare experts. It was back in 2013. The idea was good, and was even acclaimed by the then vice-chancellor of the Dow University of Health Sciences (DUHS), but the time was not right for its implementation was against the varsity's policies. Five years later, in 2018, much had changed, including the DUHS policies and administration, which was willing to collaborate on Butt's idea.

This marked the beginning of one of the most successful technology-based endeavours in the field of medicine and eDoctor was launched in April, 2018.

Quintessential Karachi: Warring with the sea, saving lives each day

"The response was overwhelming," recalled Butt. Around 350 students had shown interest in taking up the online refresher course, of whom 130 were selected and imparted clinical training while being exposed to modern practices employed in medicine. They were taught the use of telemedicine systems and informed about the prevalence of diseases in Pakistan.

Bringing about change

Today, Butt considers the project one of the largest networks of out-of-work female doctors.

"At present, 400 of those trained via eDoctor are learning to write prescriptions," he said, estimating that the number will increase to 800 after the fifth training session set to begin in February.

"We are through the first stage of the project and are heading towards accomplishing the purpose the project was began for - connecting trained doctors with patients online," revealed Butt.

According to him, around 16,000 women die in Pakistan every year due to unavailability of proper and timely medical care during pregnancy and around 280,000 infants lose the battle for life because of same reason. He believes that the initiative of providing remote healthcare via eDoctor will help significantly in reducing maternal mortality and infant mortality rates in the country.

Butt and his team now are working to launch another platform, CallDoc, to connect patients and doctors online. For this purpose, a special unit has been established at DUHS' family centre in Chanesar Halt, scheduled to begin functioning by March, 2020.

Today, when he looks back on his journey of making his vision a reality, he realises that "healthcare professionals in Pakistan don't know much about IT and IT specialists are unaware of problems in the healthcare sector."

"I simply used my experience and expertise to bridge this gap," he said.

Other feats

Butt also has to his credit the establishment of Pakistan's first call centre setup to provide remote medical assistance, a project he worked on with the Pakistan Medical Association. He also established Paiman, a USAID-funded project aimed at providing better healthcare to the mothers and the infants.

He has also been a part of various public health awareness and other projects initiated via Pakistan Television (PTV) and Radio Pakistan. One of the most notable endeavours in this area was the setting up of a call-response system at PTV for flood victims in 2010. In 2011, Butt was appointed as an adviser on IT to the then prime minister Yousaf Raza Gillani. During his tenure, he initiated various telemedicine projects for the welfare of flood victims in Sindh.

Outside Pakistan, in the area of medicine, one of his most notable achievements pertains to the development of a technology solution for easier care of aged persons living alone. The project was implemented in European Union's underprivileged countries.

This story is part of a weekly series that seeks to bring to light the unsung heroes of Karachi - the hawkers, traders, doctors, teachers, engineers, lawyers and daily-wage labourers. It is they who make Karachi the city of lights.

 

Published in The Express Tribune, January 13th, 2020.
COMMENTS
Comments are moderated and generally will be posted if they are on-topic and not abusive.
For more information, please see our Comments FAQ