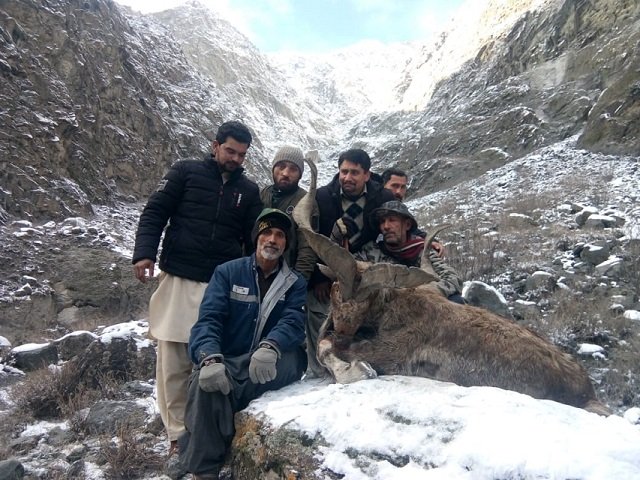 ---
GILGIT: A Spanish citizen became the third foreign hunter of the season by hunting a markhor, Pakistan's national animal, on the outskirts of Gilgit-Baltistan (G-B) on Thursday.

"John March hunted markhor whose horns measured 40 inches," said Tariq Shah, spokesperson of the G-B wildlife department. "It was the third markhor hunt made by an international hunter this season," he added.

According to wildlife officials, the recent hunt took place in Sakwar Nallah.

The Spanish hunter paid a fee of $83,000 to authorities concerned in order to purchase hunting permit auctioned by the G-B government last year.

Italian hunts season's first markhor in G-B

Although hunting of markhor is illegal in the country, the government has launched a scheme known as trophy hunting — first introduced in 80's — that makes the hunt legal for the highest bidder of trophy hunting programme.

As per rules, 80 per cent of the fee paid by the hunter is given to the local community to invest on further conversation of the animals.

Markhor, also known for its beautiful coiled horns, is a large Capra species native to Central Asia, Karakoram and the Himalayas. It is listed on the IUCN Red List as Near Threatened since 2015.

Last month, the season's first markhor was hunted in G-B's Skardu town by an Italian hunter named Carlo Pasco who successfully hunted a flared-horned markhor from the Skardu conservation area.

In mid-December, Joe Lawrence Walreven, an American hunter, killed a Kashmir markhor in Lower Chitral as trophy hunting after obtaining permit from the wildlife department for $140,000.