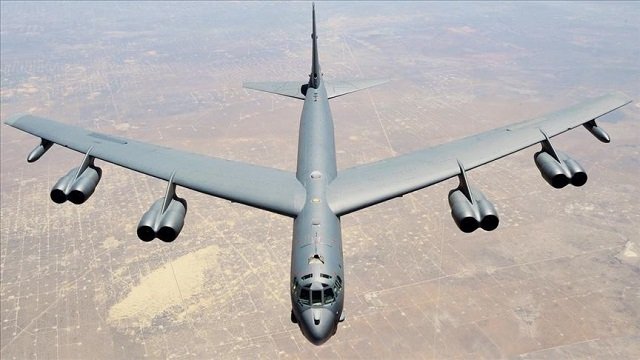 ---
ANKARA, TURKEY: The US is planning to deploy six B-52 strategic bomber aircraft to a base in the Indian Ocean amid heightened tension with Iran, according to a media report.

Citing a US official, CNN claimed on Monday that the B-52s will be available for operations against Iran if ordered.

Tension escalated between Washington and Tehran in the wake of last week's killing of senior Iranian general Qasem Soleimani in a US drone strike in Iraq, with US President Donald Trump warning Iran that any attacks would be met with a "disproportionate" response.

"If Iran attacks an American Base, or any American, we will be sending some of that brand new beautiful equipment their way…and without hesitation!" Trump warned in a pair of tweets late on Saturday.

https://twitter.com/realDonaldTrump/status/1213593975732527112

The official stressed the bombers will be placed in the British territory of Diego Garcia island, instead of Qatar, to keep the aircraft out of the range of Iranian missiles.

The Pentagon has yet to confirm the deployment, but it made a similar move last year when tensions with Iran began rising.

Washington traditionally deploys long-range bombers as a show of force, so the deployment does not signal that operations have been ordered.

'Never threaten the Iranian nation,' Iran president tells Trump

Meanwhile, US Secretary of State Mike Pompeo continued to carry out telephone diplomacy, speaking with UN Secretary-General Antonio Guterres, Belarusian Foreign Minister Vladimir Makei, Uruguayan President-elect Luis Lacalle Pou, Ukrainian President Volodymyr Zelenskyy, and Kuwaiti Foreign Minister Sheikh Ahmad Nasser al-Mohammed al-Sabah, and met Saudi Deputy Defence Minister Khalid bin Salman Al Saud in Washington, according to the State Department.

The situation with Iran was the main item for discussion, but Pompeo also discussed Venezuela's political unrest with Guterres and Lacalle Pou.

"The Secretary underscored that the United States does not seek war with Iran and remains committed to de-escalation," State Department Spokesperson Morgan Ortagus said in a statement on Pompeo's meeting with the Saudi official.

Soleimani, head of the Islamic Revolutionary Guards Corps' elite Quds Force, was killed along with nine others in a US drone airstrike early Friday outside Baghdad's airport, marking a dramatic escalation in tensions between the US and Iran, which have been on edge since Trump chose in 2018 to unilaterally withdraw Washington from a 2015 nuclear pact that world powers struck with Tehran.
COMMENTS
Comments are moderated and generally will be posted if they are on-topic and not abusive.
For more information, please see our Comments FAQ