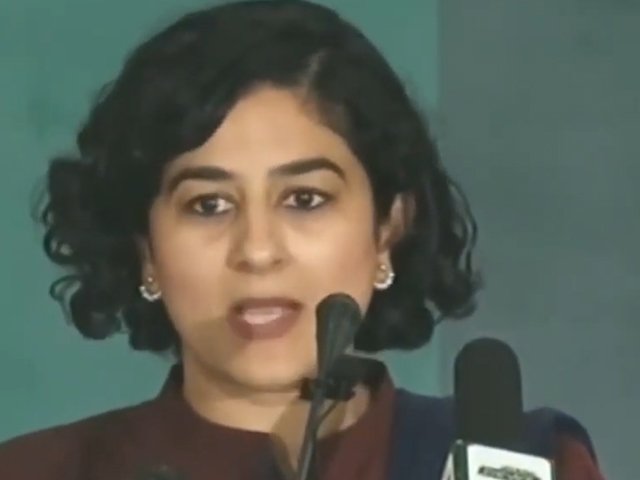 ---
KARACHI: Tania Aidrus, the head of the recently launched 'Digital Pakistan' initiative has reiterated her resolve to take the country forward by bringing a "technological revolution" in the country.

The programme, launched earlier this month, aims at introducing the latest technology for public welfare.

"We need to bring long-lasting changes for Pakistan," the former Google staffer told students of Usman Institute of Technology (UIT) in Karachi on Monday. "We need our talent to stay in Pakistan and reverse the brain drain... if we keep losing our top talent, we cannot expect any good."

Tania said technology provides opportunities, adding that startup culture needed to be developed in Pakistan, especially among women.

In order to promote digitalisation, she said, there was a need to improve internet quality, as well as bring new systems and policies. "This not only involves the federal but provincial governments as well."

The 'Digital Pakistan' head asked the students to share their innovations and ideas. "We will probably create a public forum where students could interact," she said.

'Roti, kapra, makan — aur internet': Ex-Google executive's vision for Digital Initiative

Tania said only under 20% of the population in Pakistan had bank accounts - as compared to 80% in India. This, she added, happened in the last five years after New Delhi pushed for Fintech.

She stressed the ease of starting a business in Pakistan. "It must not take one four months to start an enterprise," she said, adding that opening a corporate account must not be a hassle. "We have to make it simple."

She quoted an example of Vietnam, saying that local and international manufacturers in the Southeast Asian country were given tax breaks and concessions due to which Samsung started its manufacturing unit there, and is now contributing billions of dollars to their economy in terms of exports.

Speaking on the importance of spreading basic education through digital means, Tania said students in Pakistan did not have knowledge about the coding system. "How can we expect an 18-year-old student, with no concept of basic coding, to work in the field Information Technology (IT)," she said.
COMMENTS
Comments are moderated and generally will be posted if they are on-topic and not abusive.
For more information, please see our Comments FAQ