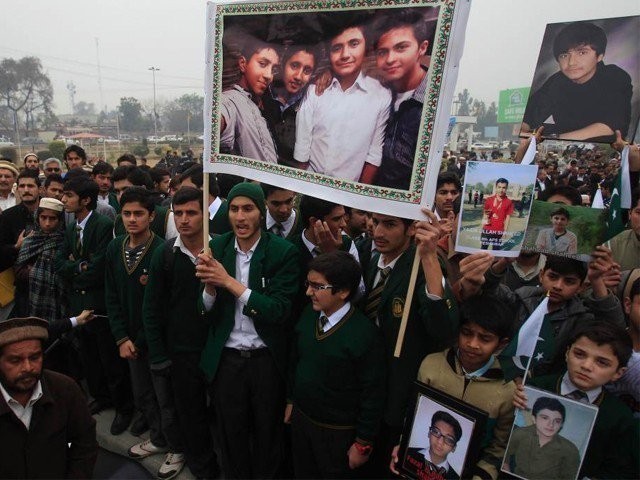 ---
PESHAWAR: Not too long ago, terrorism and violence was a common occurrence in Khyber-Pakhtunkhwa. The province became the hub of terrorist activities and then came its worst nightmare - the assault on the Army Public School (APS) on December 16, 2014. A gang of militants walked in and sprayed teachers and pupils with volley after volley of bullets, killing more than 140 that morning five years ago.

Tribute paid: APS students remembered

The methodical slaughter that unfolded not only paralysed Khyber-Pakhtunkhwa (K-P) but all of Pakistan. Across Peshawar, mosques filled with mourners carrying small coffins and wailing family members became a common sight. The city was living its worst nightmare, its worst tragedy. While the city and the country won its battle against terrorism shortly after the APS attack, many are still reeling - mostly emotionally.


The APS tragedy not only left an indelible mark on the family members but also on those who witnessed the event unfold on their television screens. And despite promises by the government to provide psychological assistance, many have been found to silently suffering from post-traumatic stress disorder, and many of them have yet to recover.

Shortly after the attack, the government promised to build a state-of-the-art trauma centre in Peshawar. But like all other promises, this too was meant to be broken. For the people who were suffering, help arrived from unexpected quarters. An army of volunteers came together to help those who continue to reel from the APS tragedy. While the government still hasn't been able to provide psychological assistance to those suffering from mental trauma in the wake of the APS tragedy, volunteers are providing counselling services to survivors, family members of those killed, and everyone who suffers emotionally as a result of the attack.

We will never forget: Social media remembers APS tragedy

"We have received people who are suffering directly and indirectly as a result of the attack," said Dr. Khalid Mufti, a consultant psychiatrist.

In recent times, Peshawar has struggled with violent attacks, but APS crossed every limit of human endurance, so much so that, in the wake of the attack, the military launched a full-scale offensive to eliminate terrorism that was targeting the most vulnerable across Pakistan.

The military won, and the terrorists lost. But for the people of Peshawar, the post APS struggle has been long and unending. Dr Mufti believes, everyone who witnessed the brutal massacre requires counseling.




"Not just APS survivors or their families, but everyone who was told about the attack or watched it unfold on their screens needs help," said Dr. Mufti. Reintegrating those who continue to suffer was not easy. Dr.Mufti is joined by an army of volunteers, including journalists, spiritual leaders, teachers, and general practitioners.

So far, Dr. Mufti has dealt with more than 150 people. The list includes survivors, family members, and those who were indirectly influenced by the attack.

"Initially, siblings and family members of those who had died were reluctant to talk," said Dr. Mufti. "They were defensive and perhaps feared everyone who wanted to talk about the attack," the medic added.

December 16 will forever live infamously in the memory of those who survived. The day will forever remind Pakistan of death and destruction. The suffering and tragedy claimed many lives, directly and indirectly. Dr. Mufti claimed many suffered cardiac arrest because the tragedy was beyond their tolerance level.

Five years on, Dr. Mufti and his volunteers are fighting an uphill battle. Each year on December 16, many survivors, he said, relapse.

"We have no option but to start from where we were many years ago," he claimed.

The assault on the Army Public School five years ago ended in bloodshed and never-ending sorrow for the families who lost loved ones. Around this time of the year, survivors are reminded of the harrowing event that gripped the attention of the world.

The images from the eight-hour-long rampage remain fresh even after all these years. Even as he treats patients, there are moments when Dr.Mufti feels vulnerable.
COMMENTS
Comments are moderated and generally will be posted if they are on-topic and not abusive.
For more information, please see our Comments FAQ