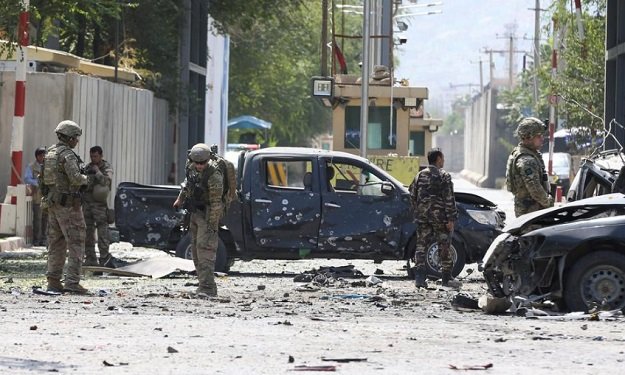 ---
KABUL: Taliban militants have intensified attacks in Afghanistan following the pause in peace talks between the armed group and the United States delegation in Qatar's capital Doha, as the militants in the latest offensive have killed nearly two dozen security personnel in the eastern Ghazni province on Saturday.

An insider attack claimed the lives of 23 security personnel in Qarabagh district of the eastern Ghazni province on Saturday, head of the Provincial Council Nasir Ahmad Faqiri said.

District governor Habibullah Zerak has also confirmed the deadly attack.

Taliban spokesperson Zabihullah Majahid has claimed responsibility for the attack and said that the insurgents in an overnight operation had killed 32 soldiers and overrun a military base in Qarabagh district of Ghazni province.

The marathon talks initiated between the US and the Taliban outfit in October 2018 in Doha to find a negotiated settlement for Afghanistan's lingering crisis broke down in early September this year following a Taliban-linked car bomb that killed 10 people including a US soldier in Kabul.

'Taliban release three Indian engineers'

The talks resumed on Dec 7 but were again suspended in the wake of a deadly truck bomb that targeted the main US military base in Bagram, 50 km north of Kabul on Wednesday, which left eight dead including six attackers and injured over 70 others, all of whom civilians.

The Taliban outfit has claimed responsibility, insisting dozens of American soldiers and their local colleagues had been killed.

Taliban's spokesperson for Qatar office Zuhail Shaheen has reportedly justified the attack on Bagram military base, arguing attacking enemies would continue unless an agreement is reached between the two sides.

More than 60 people including 10 civilians, over two dozen security personnel and at least 30 militants have been killed elsewhere in the conflict-battered country since Friday.

"The militants would further intensify attacks to demonstrate their power so as to secure an upper hand at any possible talks with the Afghan government in the future," local expert Khan Mohammad Daneshjo told Xinhua.
COMMENTS
Comments are moderated and generally will be posted if they are on-topic and not abusive.
For more information, please see our Comments FAQ