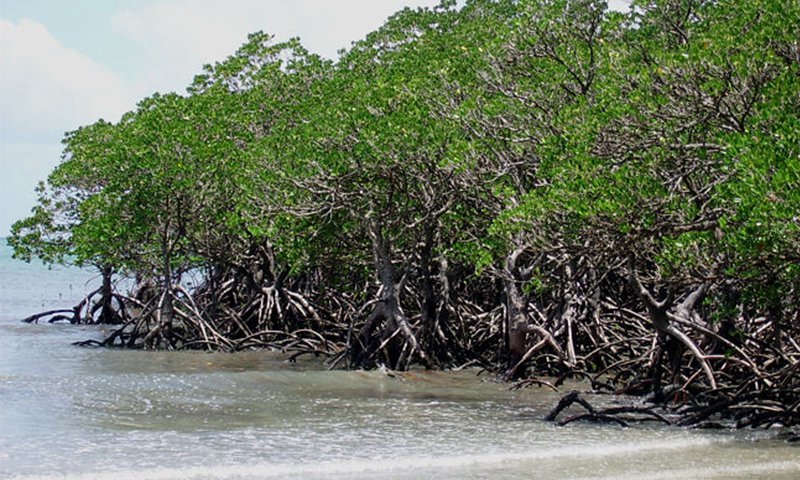 ---
MADRID: Adviser to the Prime Minister on Climate Change Malik Amin Aslam has said that at a time when climate change has become a global threat, Pakistan is probably one of the only countries in the world with increasing mangrove cover.

Mangroves are a group of trees and shrubs that live in the coastal intertidal zone. They act as a barrier for the protection of coastal regions/ports against the disastrous natural phenomenon such as cyclones, wind storms, flooding, soil erosion, etc. Pakistan has approximately 600,000 hectares of mangrove ecosystem.

Addressing an event at the COP25 in Madrid on Monday, the PM's aide said, "Not only do they [mangroves] protect our coastal areas from storms they are also high carbon-sequestering instruments."
The event was organised by the International Union for Conservation of Nature (IUCN) Panel on Addressing Global Climate Challenges through Nature-based Solutions.

Aslam said, "In Pakistan, an extremely vulnerable country, we have managed to make nature a shareholder in providing solutions."
He pointed out that Pakistan consistently appeared in the top 10 list of both the long- and short-term Climate Risk Index brought out by German watch every year, which was why they had "to react and adapt".

He highlighted the Billion Tree Tsunami project, saying it has turned around deforestation in Khyber-Pakhtunkhwa province by "relying on nature to do the job". He said 60 per cent of the billion trees came from "assisted natural regeneration" of forests.

He said that initially they had not expected nature to bounce back so quickly and instead of the expected growth of 1,000 saplings per hectare they saw 2,500 saplings per hectare regenerated once forest areas were protected.

"It was also cost effective," Aslam said, explaining that they had originally earmarked Rs22 billion for the project and ended up spending Rs12 billion. "We also created half a million jobs."
He said this project "allowed us to do both mitigation and adaptation".

The PM's aide said the larger 10 Billion Tree project would involve communities and provide more jobs and increase the mangrove cover further.

'Mangroves are the custodians of the coast'

The other major project in the pipeline which would also provide nature-based solutions, he said, was the Recharge Pakistan project.
"Our glaciers are melting and the runoff in the summer coincides with monsoon rainfall which creates a 'perfect storm'. Super floods in Pakistan in the past have uprooted millions," he said. "The Recharge Pakistan project would reduce damages caused by flood waters and also restore wetlands along the rivers."

He thanked the IUCN for introducing the idea formed 20 years ago that nature could be an ally in fighting climate change. "We need nature to work with us," he said.

He pointed out that a new report showed that 66% percent of countries in the world "are now talking about nature-based solutions" in their Nationally Determined Contributions (national plans to counter climate change).

He said, "Three advantages are clear in using nature effectively: it is cost effective and you end up saving money, the green economy pathway creates jobs and clean solutions are easy to manage".

According to Kashmala Kakakhel, a climate finance expert and member of the Pakistani delegation to COP25: "We should think of Pakistan's investment in the Billion Tree initiative as a critical building block… we are now at a takeoff stage, where we can easily create room for further benefits. One area that I am strongly pursuing is the results-based payments that we can access through the UN process."

Results-based payments are financial incentives to developing countries that have proved through rigorous UN-backed evaluation that they have halted deforestation during a period of time.
COMMENTS
Comments are moderated and generally will be posted if they are on-topic and not abusive.
For more information, please see our Comments FAQ