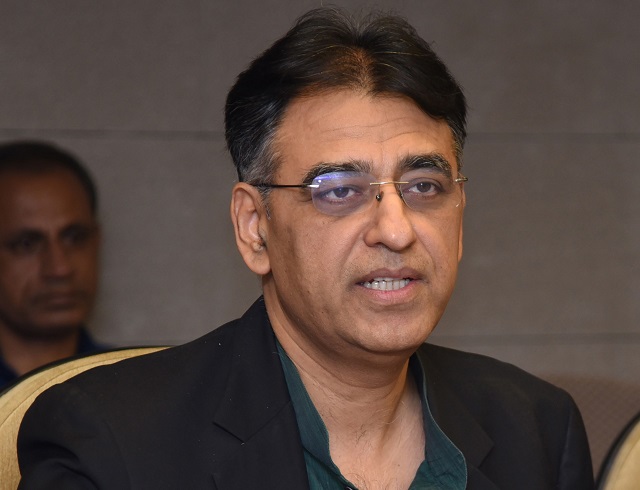 ---
ISLAMABAD: Minister for Planning, Development, and Special Initiatives Asad Umar on Tuesday said that digital economy was vital to ensure sustainable development of the country.

"Businesses in Pakistan are controlled and influenced by those who have access to policy decisions and capital markets however, the advent of digitalization has the potential to break this barrier," he said.

He was speaking at the introductory plenary of 22nd Sustainable Development Conference (SDC) under the overarching theme of Sustainable Development in a Digital Society", organized by the Sustainable Development Policy Institute (SDPI) here.

The minister said that revenue generation and documentation of the economy was the biggest challenge and only the digitalisation of economy can help solve this challenge.

Transparency and accountability can be ensured through the use of technologies where the educated youth can hold the government accountable, he said, adding that there has emerged digital divide the world over and to bridge this divide, we need a consolidated approach. He also stressed the need for coordinated efforts and revisiting the government practices at all levels.

SDPI Executive Director Dr Abid Qaiyum Suleri called upon the government to fast track decision-making, productivity, and institutionalisation of its mechanisms so that a policy framework might be devised to embark upon digital revolution.

StarTimes Communication Network Technology, China, Managing Director George Gu said that digital technology is changing the social environment upon which human beings depend, therefore, technologies like digital broadcasting is changing and revolutionizing the education and e-learning in remote areas, such as in hundreds of villages of Africa.

SDPI Board of Governors Chairperson Ambassador Shafqat Kakakhel called upon the government to realise the challenges of fourth Industrial Revolution and prepare its institutions for a digital change.

Board of Investment ex-chairman Haroon Shareef stressed the need for reprofiling the job industries amid the digital revolution and the skilled labour force.

Punjab ex-finance minister Dr Ayesha Ghaus Pasha said that the then Punjab government successfully tackled the dengue disease through the use of the technology, which enabled the government to help control the disease to spread further.

Speaking at a session on Strengthenning the Use of Evidence Use in Policy Making for Development Impact Andy Murray, Statistics Advisor and Team leader, Department for International Development (DFID) said that we need to challenge conventional approaches, thought process and understanding and making sure that evidence defines our policy direction.

Former finance minister Sartaj Aziz said: "Our political system does not allow land reforms and income distribution and this is where skills come in and help ensure education and earnings to people."

Dr Vaqar Ahmed, SDPI Joint Executive Director, questioned can evidence be a factor that could help in better policymaking. He stated that policy making is not necessarily evidence based. At times, he suggested that certain initiatives are politically motivated and do not allow time to bring in evidence.

He said Articles 154 (1) & 156 (2) of the Constitution of Pakistan provide excellent guidelines for economic policy making.

Arnaldo Pellini, research associate at the Overseas Development Institute, said digital technologies would require new capabilities in governmental use of evidence.

Mosharraf Zaidi, founder of Tabadla Lab said 70 million Pakistanis are between ages 15-29 yrs. He also said that elite bureaucracy, specialist and external experts and elected politicians constitute the policy-making architecture in the sector although news media has a significant influence.

Anees Jillani, Chairman of SPARC Board of Governers, said the juvenile justice act was promulgated in 2000 and later was struck down in 2005 by the Supreme Court. The coordination and clarity of roles has been lacking and ministries are shy to engage. The article 25A of constitution bounds the state for free and compulsory education and for children in ages 6-16, still almost half the students are not in schools.

Mehr Shah, Director of Knowledge Management and Communications, Karandaaz, said that policy debates and efforts are working in silos and the effort must be organized to deliver from one platform.

Safiya Aftab, Executive Director, Verso Consulting, provided a note of caution that data can be made and can be interpreted and used very differently. The use and implementation of data along with politics is an area we also need to focus on, she added.

Speaking at a concurrent session on "Hazards of Air Pollution, Climate change and Data Challenge" , experts said we can collect data to measure the air pollution. They said crops burning and brick kilns are the prominent causes of air pollution and it is getting to rise day by day. They said the current smog issue of is due to pollution coming from across the border.

Federal Minister for Climate Change Zartaj Gul said that government ministers feed on the data that is provided by the scientists and environment experts. She said the government needs input from environment experts and scientists regarding these issues so that they can make policies.

Published in The Express Tribune, December 4th, 2019.
COMMENTS
Comments are moderated and generally will be posted if they are on-topic and not abusive.
For more information, please see our Comments FAQ