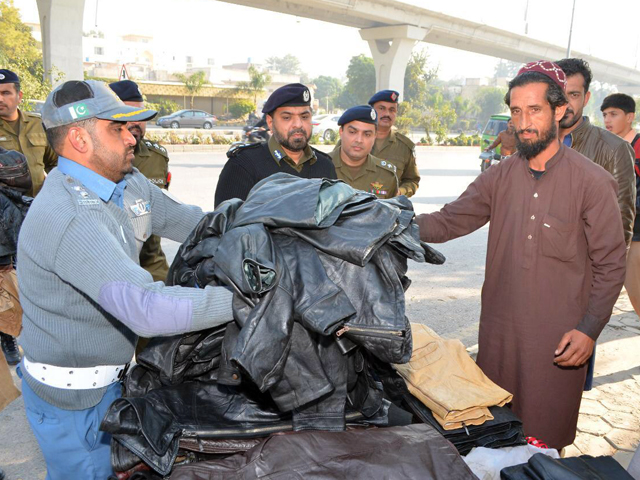 ---
RAWALPINDI: In a rare act of kindness by the police, a poor roadside vendor was not only given back his leather jackets that were confiscated a day earlier but also tendered an apology for the inconvenience caused on Tuesday.

A video showing police officials confiscating used leather jackets from the vendor's cart was doing rounds on social media since yesterday.


ہم کدھر چلیں جائیں دس پندرہ جیکٹیں زبردستی اٹھا کر لے گئے ہیں روز ہمارے ساتھ یہی ہوتا ہے . محنت کش ریڑھی والا
راولپنڈی : مری روڈ ٹریفک پولیس کے اہلکار
ریڑھی پر جیکٹس بیچنے والے محنت کش سے جیکٹیں اٹھا کر لے گئے pic.twitter.com/NLUmdHOC8n

— Emaan Noor (@Emaan_Noor5) December 2, 2019


Taking notice of the incident, Rawalpindi City Police Officer (CPO) Ahsan Younus, who only assumed charge of his office on Monday, suspended two officials and ordered an inquiry into it. However, he did not stop here and paid a surprise visit to Murree Road and met the affected vendor today.

CPO Younus apogised to the vendor on the cruel act of his colleagues and returned the confiscated goods to him in a respectable manner. He also embraced the vendor, who was shocked to see the city's top police officer in front of him.




The CPO said that strict action would be taken against all officials found involved in hurting any poor.

Overwhelmed by the kind gesture, poor man can be seen praying for the police officer in a video shared by the Rawalpindi Police on Twitter.

He said he cannot thank the police officer enough for the kind gesture. He also prayed for policemen who give respect to the downtrodden segment of the society.


راولپنڈی ٹریفک سٹاف کا ریڑھی بان کی جیکٹس زبردستی اٹھانے کا معاملہ،

سی پی او راولپنڈی نے آج چاندنی چوک موقع پر جا کر ریڑھی بان سے ملاقات کی، اور ٹریفک سٹاف کی طرف سے اٹھائی گئیں جیکٹس واپس کروائیں اور متاثرہ شخص ظاہر خان سے معذرت کا اظہار کیا۔ pic.twitter.com/6bie9aPG8J

— Rawalpindi Police (@RwpPolice) December 3, 2019
COMMENTS (1)
Comments are moderated and generally will be posted if they are on-topic and not abusive.
For more information, please see our Comments FAQ