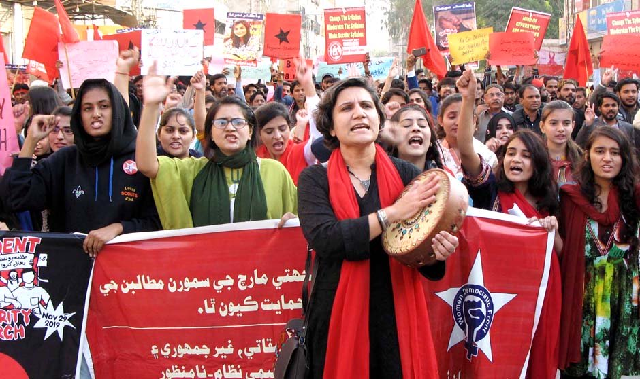 ---
ISLAMABAD: Possibility of the revival of student unions at university level will come up for discussion in the cabinet meeting today (Tuesday), Minister for Planning and Development Asad Umar said on Monday.

"Students should have representation in the universities to get their opinions heard in the matters related to the institution they are studying in," Umar said addressing the soft launch of Kamyab Jawan Programme's Startups Pakistan at Quaid-i- Azam University.

Putting his weight behind the popular demand for reviving student unions, Umar suggested that representatives of students should be asked to give their recommendations and opinions in various matters of the universities, particularly in the policy making process.

Special Assistant on Youth Affairs Usman Dar was also present on the occasion. Umar said struggle of Pakistan Tehreek-e-Insaaf (PTI) was mainly aimed at empowering the youth as they were the real asset of the country.

He said just as it was not possible to run a university effectively without having say of faculty in educational matters, similarly students too should have their representation.

"Matter of student unions in universities will be discussed with Prime Minister Imran Khan in cabinet meeting to be held on Tuesday," he said.

Regarding the Startup Pakistan Programme, the minister said it is aimed at providing entrepreneurship training to one million youth by 2023. Moreover, the programme will help launch 10,000 new businesses during this period. The minister added that purpose of launching this programme was to empower the youth.

Umar said Pakistan was one of few countries in which there was a huge potential of economic development due to presence of huge portion of young people. He also conveyed some important suggestions to the youth for initiating new businesses and making them flourish rapidly.

"Think big, start small and then scale up rapidly," he said adding the youth must adopt this strategy when they start their businesses. He also called for involving youth in the designing process of all such projects which were related to the youth themselves.

The minister said in this particular programme such people who possessed expertise must be involved to make it more successful.

Meanwhile, Special Assistant to Prime Minister on Youth Affairs Usman Dar has said that PTI government strongly believes that young people are the true asset of the nation who could play a vital role for sustainable development of the country.

The government is making serious efforts to use the talent of youth for the economic development of the country, he said talking to a TV channel.

Kamyab Jawan Programme is a good initiative by the incumbent government, but transparency should be ensured in the process, he said. Moreover, people should be provided loans on easy terms and conditions, he mentioned.

"Our youth are much talented and capable enough to make Pakistan a developed country," Dar said.

About 68 per cent of the population in the country is below the age of 30 years who can change the fate of the country if properly guided. Under the Kamyab Jawan Programme, they are going to empower youth and motivate them to start their own businesses and entrepreneurship, he added.

Published in The Express Tribune, December 3rd, 2019.