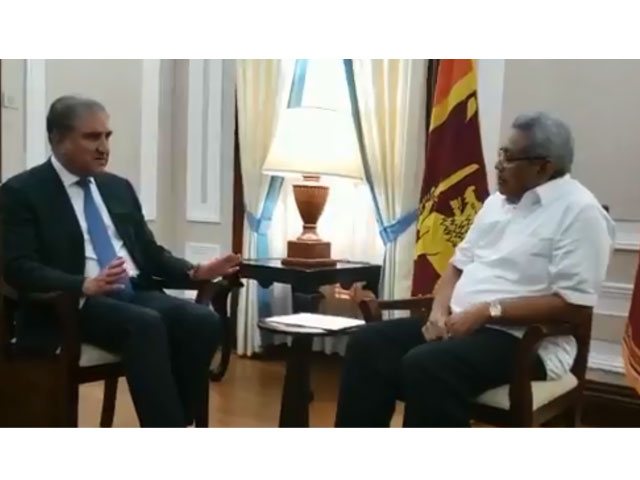 ---
ISLAMABAD: Top diplomats from Pakistan and China were in Colombo on Monday to meet the newly-elected Sri Lankan President Gotabaya Rajapaksa, underlining the fact that its ties with Islamabad and Beijing would grow, much to the discomfort of India.

It was not clear if it was just a coincidence or a coordinated move that Foreign Minister Shah Mehmood Qureshi and the People's Republic of China Special Representative of State Council Wu Jianghao met with top Sri Lankan leadership on the same day.

Whatever may be the case, the presence of senior officials from the two countries appears to suggest the importance both Islamabad and Beijing attached to their ties with Colombo.

Diplomatic sources told The Express Tribune that Sri Lankan President Gotabaya Rajapaksa held back-to-back meetings with the Chinese diplomat and Foreign Minister Qureshi.

The visiting dignitaries also separately met Prime Minister Mahinda Rajapaksa, who earlier served as country's president.

While Foreign Minister Qureshi extended formal invitation to the Sri Lankan president and prime minister for a visit to Pakistan, the Chinese diplomat conveyed the same on behalf of his leadership.


FM calls on the President of Sri Lanka. Bilateral issues, trade, investment and people to people contacts discussed. FM handed over a letter from President to President of Sri Lanka and invited him to visit Pakistan at his earliest convenience. #FMinsrilanka pic.twitter.com/nwNRc4KH7p

— Dr Mohammad Faisal (@DrMFaisal) December 2, 2019


It is expected that Sri Lankan president would soon undertake visits to China and Pakistan. The development would certainly upset India, which is wary of Gotabaya's close ties with Pakistan and China.

In order to woo the new president, Modi last week hosted Gotabaya in New Delhi offering Sri Lanka investment and other financial incentives. Observers, however, believe that given Rajapaksa family's close ties with Pakistan and China, such overtures are unlikely to make any impact.

In the recent presidential elections, India and certain other western countries were backing Gotabaya's political rival Sajith Premadas, who was considered close to India and the west.

In 2015, Indian secret agency Research and Analysis Wing (RAW) and the US Central Investigation Agency (CIA) were believed to have played a central role in ensuring the defeat of Mahinda Rajapaksa, the brother of current Sri Lankan president.

India and certain western countries wanted to oust Mahinda because of his pro-China policies.

Meanwhile, a statement issued by the Foreign Office said the foreign minister formally handed over the invitation letters from President Dr Arif Alvi and Prime Minister Imran Khan to the president and prime minister of Sri Lanka to visit Pakistan at the date and time convenient to them.

Qureshi called on Sri Lankan President Gotabaya Rajapaksa, Prime Minister Mahinda Rajapaksa, and Foreign Minister Dinesh Gunawardena, the statement added.


FM also briefed his Sri Lankan counterpart on the dire situation & human rights crisis in Indian occupied Jammu & Kashmir. He said that the 100 day plus lockdown remained a cause of serious concern for the international community. #fminsrilanka pic.twitter.com/BttaHXjZDj

— Dr Mohammad Faisal (@DrMFaisal) December 2, 2019
FM calls on Prime Minister of Sri Lanka. Very positive interaction. Deepening and further strengthening of bilateral relations discussed. Political will on both sides to take the relationship to the next level. A phenomenal day for Pakistan - Sri Lanka relations. #fminsrilanka pic.twitter.com/cMyRBOOd0G

— Spokesperson 🇵🇰 MoFA (@ForeignOfficePk) December 2, 2019


During the meetings, the foreign minister highlighted the importance that Pakistan attaches to its relations with Sri Lanka, which are rooted in history and characterised by friendship and cordiality.

He underscored that the relations between the two countries are time-tested and have gained strength in all spheres and domains with the passage of time. He expressed confidence that under the current leadership of Sri Lanka, the abiding ties between Pakistan and Sri Lanka will reach new heights.

The foreign minister, while highlighting Pakistan's efforts towards economic diplomacy, said there exists immense potential and vast opportunities to enhance bilateral trade and investments, which would be further beneficial for the two countries and peoples.

He said it was a matter of immense pleasure that after the visit of Sri Lankan cricket team to Pakistan, the international cricket was returning to the country. The people of Pakistan are now looking forward to the upcoming tour of Sri Lankan team to play two test matches in Rawalpindi and Karachi.

The Sri Lankan leadership expressed warm gratitude to the leadership and people of Pakistan for extending felicitations and best wishes to the new Government of Sri Lanka and emphasised that they looked forward to further cementing the already strong and brotherly ties between the two countries.
COMMENTS
Comments are moderated and generally will be posted if they are on-topic and not abusive.
For more information, please see our Comments FAQ