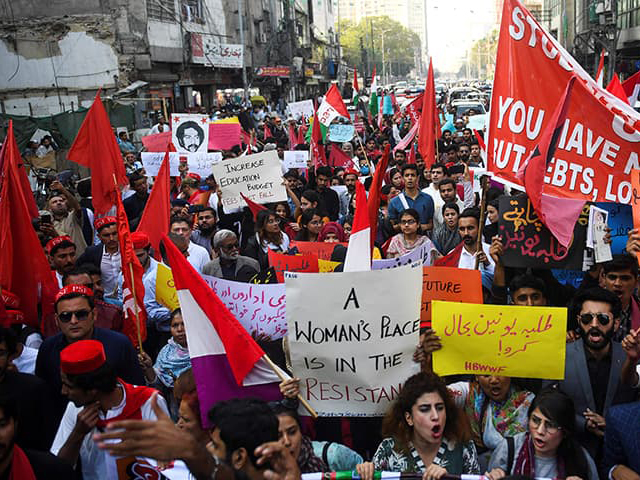 ---
LAHORE: A case under sedition charges has been registered against Iqbal Lala, father of Mashal Khan, and other participants of the Student Solidarity March, held across the country including Lahore on November 29, for restoration of students unions.

Mashal Khan, a student of Abdul Wali Khan University Mardan, was lynched by an angry mob over blasphemy allegations in 2017.

Lala, Ammar Ali Jan, Farooq Tariq, Alamgir Wazir, Muhammad Shabbir and Kamil Khan are nominated in the case, registered at the Civil Lines Police Station on the complaint of sub-inspector Muhamamd Nawaz.

According to the first information report (FIR), speakers allegedly incited protesting students against the state and its institutions through 'hateful' speeches and slogans. "These have been recorded by mobile-phones and can also be checked through PPIC3 cameras," the FIR read.

Other sections in FIR included section 290, 291 of PPC, section six of The Punjab Sound System Act and section 16 of Maintenance of Public Order (MPO).

PM Imran vows to restore student unions with 'enforceable' laws

Mashal Khan, since his brutal murder, has become as a symbol of students' resistance. Sight of his father Iqbal Lala ignited passion in students at Friday's march. Lala was given a hero's welcome as he arrived to express solidarity with students in Lahore. He was also caught struggling to keep his emotions in check on seeing so many students raising slogans in his favour.

Meanwhile, Alamgir Wazir, a student of Punjab University and the co-accused in the FIR, was taken into custody by police from the university premises on Saturday afternoon. Wazir is a former chairperson of Pakhtun Council's Punjab University chapter.

He completed his BS in Gender Studies from the university last year and was visiting it to get the degree verified and was staying at the hostel with his cousin. Wazir had also attended the solidarity march and made a fiery speech.

A large number of students staged a protest sit-in against his arrest at the campus last night. Social media was also abuzz with news of his arrest.


COMMENTS
Comments are moderated and generally will be posted if they are on-topic and not abusive.
For more information, please see our Comments FAQ