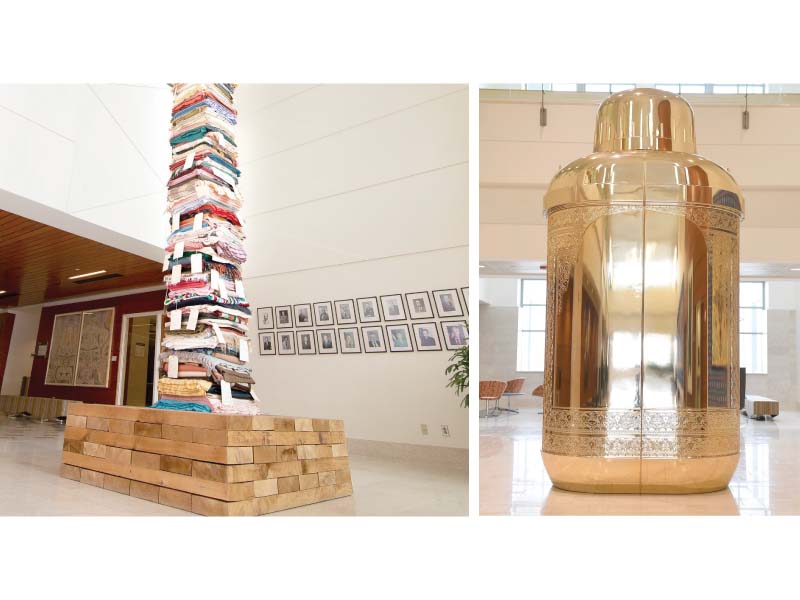 ---
ISLAMABAD: With art termed as the best means to strengthen friendly ties between two nations, the United States Embassy in Islamabad on Wednesday put on display works of more than 38 artists from its permanent art collection across the mission.

The work put on display includes the work of prominent, post-modern Pakistani artists such as Rashid Rana, Shazia Sikandar Ambreen Butt, Sana Arjumand, Hamra Abbas, Idris Khan, Sheila Hick, and Sohail Zuberi along with other American and international artists.

US Embassy's Counselor for Public Affairs Julia Fendrick lauded the work of Pakistani artists.

"Art is not just about colours or shapes, but it is about human emotions. Hence, each art piece enjoys its context and significance," Fendrick said.

The visual arts play a large role in sharing political, economic, social, aesthetic, and human viewpoints through creative efforts that inspire the imagination and toughen the heart.

Speaking to The Express Tribune, she said that while building the new embassy building, they have kept critical issues of environmental pollution and the government's Clean and Green Campaign in mind.

She added that they have a department of culture and a space for performing arts.

"Anyone working here or visiting the embassy will be provided with an environment-friendly space," the counsellor said.

She added said that the art collection celebrates the natural beauty, culture, and people of America and Pakistan while it represents the common themes of harmony, struggle, and freedom.

The artworks have been created on multiple media, from paintings to prints, sculptures, photographs, textiles, and site-specific art – as well as traditional works from Northern Indian painting to Dutch Masters to Indo-Persian arts.

The works of one of the artists, Marie Watt, focused on the common traditions of 'blanket stories', which created totem-like structures of traditional blankets collected from across the world.

The colours, textures and patterns of each blanket lend to a diverse narrative and a representation of modern, pluralistic society through the vision of expressive traditions.

Pakistani-American artist Butt, best known for her drawings, paintings, prints, and labour-intensive, self-portraits using traditional Persian art, had created a piece which explores the traditions of classical Urdu and Arabic language, including the practice of reciting and repeating selective text from the Holy Quran and the stylized mark-making of calligraphy ('khattati').

The blue and green text-based patterns reference traditional Kashi-Kari tile designs that have been used as mosaic decorations in Pakistan for centuries. Regarding the artistic practices of Islamic calligraphy and arabesque, the work was created in a dialogue between these rich visual traditions present in Pakistani culture and contemporary art practice through both convergence and divergence.

Idris's work, ink on gessoed on an aluminium panel, included a drawing on diverse cultural facets such as literature, history, art, music, and religion. Idris then developed a narrative involving densely layered imagery that inhabits the space between abstraction and figuration and speaks to the themes of history, cumulative experience, and the metaphysical collapse of time into single moments.

Abbas's 'Barakah Gifts' were inspired by her visits to Makkah and Medina, where she collected several objects of everyday use from gift shops around the two holy mosques. Although these objects are collected from commercial markets adjoining religious sites, they are not religious objects, rather they are like souvenirs.

Hick, who is fascinated with the study of architecture and artisanal crafts used fibre to blur the boundaries between painting and sculpture with her vibrant woven and textile works, which she creates in many shapes and sizes using 'domestic' mediums to create pieces which hang from ceilings to floors, like textured columns.

Lahore-born Shahzia Sikander who found her calling in New York City drew an Indo-Persian miniature into the realm of contemporary art by subverting her training in the genre with commentaries on lived experience, art history, and pop-culture.

Published in The Express Tribune, November 28th, 2019.
COMMENTS
Comments are moderated and generally will be posted if they are on-topic and not abusive.
For more information, please see our Comments FAQ