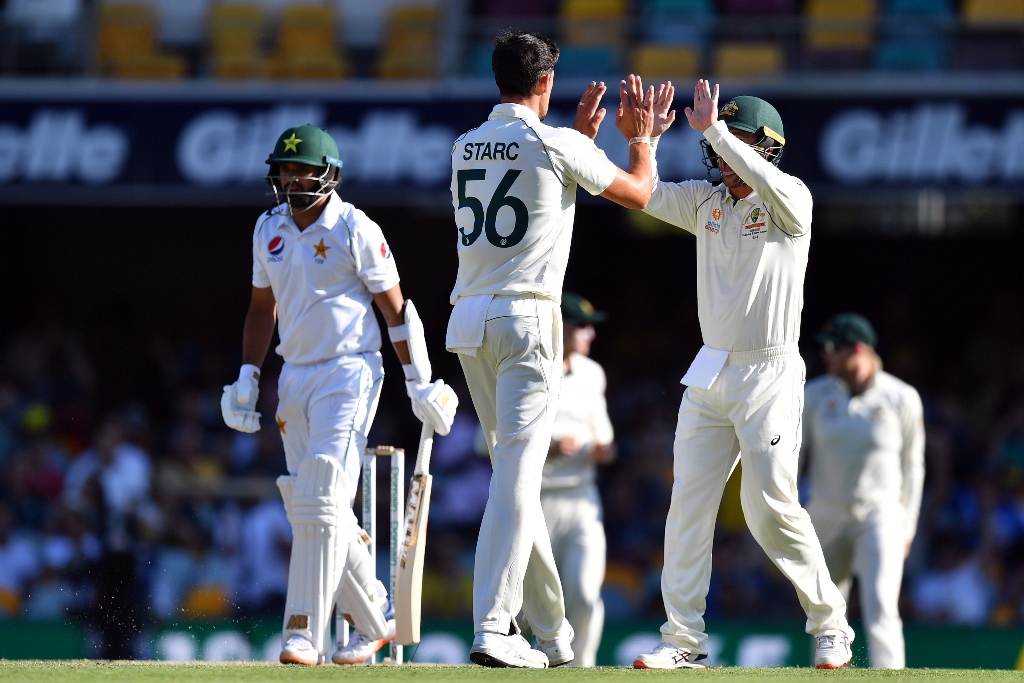 ---
Pakistan walk in to bat nearly at the end of day three with a magnanimous task of scoring 340 runs to get on level terms with Australia. With only 17 overs to bowl, Aussie pacer Mitchell Starc is licking his lips and promising to steam in for every delivery with left-hander Shan Masood on the receiving end.

Starc pitches the very first ball short, not on bouncer length, but only just short to confuse the batsman whether he should go forward or backwards. Shan opts for the latter option, tries to fend it off towards leg, but misses to connect the bat with the ball.


Why Australia dominated day two of first Test against Pakistan


The next moment, Shan can be seen rubbing the wound to ease the pain, but more interestingly Starc stands and has a grin on his face.


That stings and doesn't big Mitch know it! #AUSvPAK pic.twitter.com/jgNxVCvqsa

— cricket.com.au (@cricketcomau) November 23, 2019


Welcome to Australia, is the message sent to Pakistani batsman by Starc, but don't expect complementary starters.

Starc goes back to his bowling spot, takes a look at his field, grips the ball, steams in again and this time it's a signature bouncer. Shan is on the back foot again, both physically and mentally. Starc has a grin on his face, again, as if he has seen the nervousness in the Pakistan batsman's eyes.

Welcome to Australia, his facial expressions say, but don't expect any pleasantries.

However, Shan had no plan to go down that easily. He scores two boundaries off two consecutive balls next; whipped through midwicket, flicked off the hips.

Why Asad Shafiq should have been Test captain over Azhar Ali

Shan has learned his lesson: he doesn't need to score on every ball, but he doesn't have to block a scoring ball.

Azhar Ali, Pakistan captain, is Shan's partner. Pat Cummins is bowling to him in the second over. Starts with a bouncer to him, bowls length then, and misses the mark next with a leggish delivery. Azhar rotates the strike with a single from third man region. Shan then shoulder arms the next two deliveries.

Starc is back now and this time Azhar faces the music. Aussie pacer starts with a short ball and then two length deliveries which the Pakistan captain doesn't want to touch. Next up, he pitches one wide and full and Azhar jumps on it to bag a boundary.

That is a confidence booster. That would've eased Azhar's nerves. Aussie pacers serving freebies is a rare sight. Or maybe it is just the Aussie way of breaking a batsman's defence, giving him confidence that he can go for the offence. It seemed more like Starc wanted him to score that boundary, rather than Azhar creating one for himself.

At the moment, it is 1-0 to Azhar, but the Aussies always pay back their debts.

Starc fires the next one, in line, directed directly into Azhar's pads, with as much pace as he could muster up for the fifth delivery of the over. Azhar reviews the LBW decision confusingly, hoping against hope that something turns out to be in his favour, but nothing does. Umpire's out decision stands and then it happens. Pakistan batting's flop show starts.


It was Mitchell Starc with the big breakthrough for the Aussies this evening!#AUSvPAK | @bet365_aus pic.twitter.com/NOKONaZ0tT

— cricket.com.au (@cricketcomau) November 23, 2019


Haris Sohail fails yet again, in the same fashion as the first innings, edging a back of a length, outside off-stump delivery to the keeper. Asad Shafiq, Pakistan's hero in the first innings, goes for a duck this time, edging one to third slip.

With only 64 runs on the board, Pakistan lost three wickets in a span of 17 overs, while it took the tourists 157.4 overs to dismiss the complete Australian line-up.


Young Pakistani pacers can take a leaf out of Amir's book at Gabba


Looking at the current situation at the end of day three of the first Test, the match is well and truly over and Australia are winning it without any doubt.


Babar Azam gets off the mark in style.

Live HERE: https://t.co/BuOx0hPEp1 #AUSvPAK pic.twitter.com/UIAfxqnwrS

— cricket.com.au (@cricketcomau) November 23, 2019


But there is only one hope that will wake us Pakistanis up in the middle of the night to watch the proceedings on day four, to watch Babar Azam bat through, to be the hero we all want him to be and to be the calm in the face of the Aussie pace storm. Also, don't forget, Shan is also persevering with him.