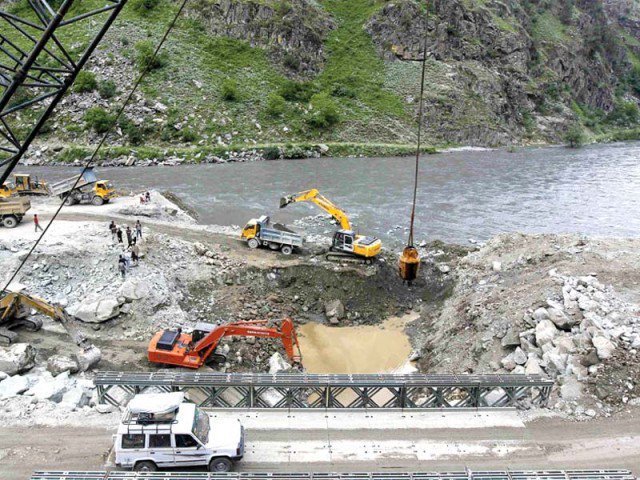 ---
ISLAMABAD: The Kishanganga Hydroelectric Plant has started to have an adverse effect on Pakistan as work on 1,124MW Kohala Hydropower Project being built on the River Jhelum in Azad Jammu and Kashmir (AJK) has come to a halt due to diversion of water by India.

Kohala Project is part of the China-Pakistan Economic Corridor (CPEC).

India has built the Kishanganga plant on the River Neelum Jhelum by diverting water flows that has caused issues of environmental flow to Pakistan. Pakistan and India have fought a legal battle over Kishanganga at the International Court of Arbitration.

Along with a host of issues with the Chinese developer of this project, water flows have been a major issue in completing the Kohala project. The government has now approved a revised plan of water flows to resume work on the project.

The 1,124 MW project is being developed by Kohala Hydropower Company Private Limited. China Three Gorges Cooperation, IFC and Silk Road Fund are sponsors of the project under the Policy for Power Generation Projects 2002 on a built, own, operate and transfer (BOOT) basis.

The company was issued the Letter of Support on December 31, 2015 which was amended subsequently pursuant to which it is required to achieve financial closing by December 31, 2019.

The project was at an advanced stage towards achieving financial close when the AJK government stopped its due facilitation for land acquisition and related matters in July 2018 demanding a substantial increase in environmental flow of the project from the already approved level of 30 cumecs in the River Jhelum.

This demand was made amid concerns raised by people of Muzaffarabad after the 969 MW Neelum Jhelum hydropower project reduced the environmental flow in the River Neelum to mere 9 cumecs due to which sewage discharge and social environmental issues erupted in and around Muzaffarabad city.

This became a socio-political issue due to which development work of the project is halted since. The issue was considered at the highest level and on direction of the prime minister of Pakistan, Ministry of Water Resources prepared a report wherein certain recommendations had been made to address environmental flow issues.

In view of the report of Ministry of Water Resource on environmental issue, the company and the AJK government had agreed that minimum release below Kohala dam be made equivalent to 42 cumecs by maintaining the environmental flow of 30 cumecs and releasing additional flow of 12 cumecs from the spillway/bottom outlet/environmental flow generator as become available in in the River Jhelum due to diversion of River Neelum at Kishanganga plant.

These additional water releases will reduce water availability for power generation and slightly increase in project tariff depending on water availability in the river during each year, hence may require approval from the National Electric Power Regulatory Authority (Nepra).

The Private Power Infrastructure Board (PPIB) had already endorsed this change and recommended it for consideration and approval of the Economic Coordination Committee (ECC) of the cabinet. The ECC has decided that the minimum release below Kohala Dam be made equivalent to 42.
COMMENTS
Comments are moderated and generally will be posted if they are on-topic and not abusive.
For more information, please see our Comments FAQ