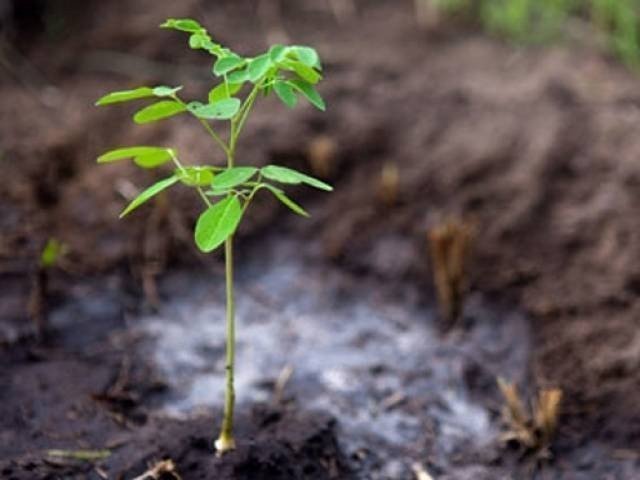 ---
BHAKKAR: Environmental pollution and ever-increasing population have greatly affected human life, particularly in urban areas.

In cities, the lack of open and cultivated places, and the negligence of citizens towards greenery, has resulted in a polluted atmosphere. The need to have parks and green walking paths has been so greatly valued among the public.

In view of this problem, developed and developing countries are promoting rooftop gardening and farming in newly-constructed buildings. These green buildings not only allow horticultural enthusiasts to fulfill their need of having greenery in their spaces, but also contribute to the reduction of air pollution.

Terrace farming is not a new concept. Traces of this method can be found in Roman history, dating back to the 6th century BC and during the Muslim era of 11th century Egypt. After Muslim rulers of Egypt started taking interest in the construction of 14-storey buildings, terrace farming was promoted and kitchen gardening was done on roofs. Horticulture was also promoted on roofs and vegetables were also grown with a modern and reasonably well arranged irrigation pattern.

Fast forward to today, the urban trend of building several concrete floors in a building discourages terrace farming due to a lack of space for horticultural activity. Pakistan does not currently have the custom of designating green spaces in buildings, as compared to developed countries.

There is a lack of research regarding different aspects of human life. Metropolitan cities lack open spaces needed to grow plants in large buildings for natural beauty and clean air.

There are many citizens in the country who do not have open spaces for gardening.

Citizens need to be encouraged to commit to regular gardening on the roofs of their homes, flats, apartments, or offices, and keep their roofs green by using available equipment to grow plants. Decorative plants can be grown on roofs while certain vegetables and fruits can be easily grown to meet kitchen needs.

To achieve this goal, some tips and precautions should be followed for gardening in limited spaces to avoid any potential damage to residential buildings.

Impact of greenery on temperature

Planting vegetables on rooftops can significantly reduce seasonal effects of heat during summer. In urban areas, where sun exposure increases the temperature of concrete walls, the shorter the distance between paved buildings, the lesser the air passages increase the intensity of the atmosphere. The presence of vegetation and greenery in such areas contributes to lower temperature.

In cooler areas, these plants also help to increase the temperature and keep the environment clean. Moreover, the plants on rooftops provide you with an atmosphere, where one can spend a few moments of relaxation.

Selection of plants

Choosing appropriate plants is also an important step for gardening on roofs. One of the key things to keep in mind is that whichever plants are selected for gardening on the roof, their size and the amount of soil needed for the roots will depend on your roof capacity.

Certain plant species require much more space and may end up becoming a burden on the roof or require too much soil. There are also plants and fruit trees available in Pakistan that you can easily grow in pots. From a nursery, one can select lemon, malta, guava, apple, grape and many other plants that are commonly referred to as 'China plants'. As the size of these plants is small and because they grow a good number of fruits, citizens often opt for these when gardening at their homes. Vegetables such as tomatoes, chilies, mint, coriander, eggplant, sesame seeds, cucumber, pumpkin, carrot, radish, corn and other varieties can also easily grow in limited space. Along with these, there are also seasonal ornamental plants, as well as permanent decorative plants, whose trimming and easy care allows you to build an entire garden on the roof of your home.

Similarly, the practice of vertical gardening is also being promoted nowadays. For the first time in Pakistan, 'Qadir Bakhsh Farms' in Faisalabad has introduced vertical walls in which you can easily grow decorative plants as well as vegetables and fruits. This is a very suitable method for vertical gardening which satisfies a gardener's hobby where there is a lack of space. Precautions

Whenever roof gardening or planting is planned, the roof of the building must first be evaluated to see if it is sufficient for growing plants. Secondly, there should be proper arrangement for excess water emissions. The amount of sunlight on the roofs should also be evaluated and plants should be selected accordingly. For plants that need more sunshine, sunny places should be selected while plants that need less sunshine should be placed in shady areas. Large plants should be placed where other plants, that need more sunlight, are not affected by the larger plants' shade. Smaller plants should be kept in places where there is a suitable environment for nourishment.

Published in The Express Tribune, November 20th, 2019.
COMMENTS
Comments are moderated and generally will be posted if they are on-topic and not abusive.
For more information, please see our Comments FAQ