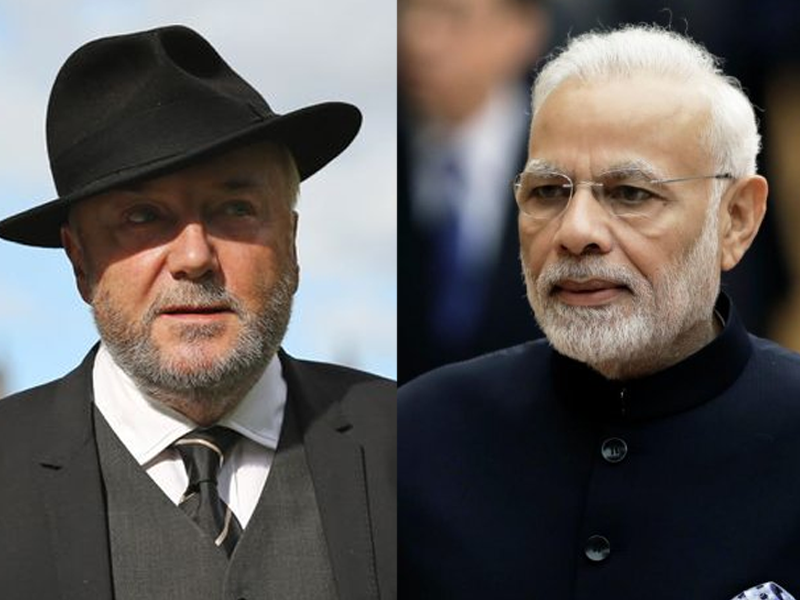 ---
As much as Indian Prime Minister Narendra Modi would like to believe the people of Kashmir are isolated as a result of the illegal annexation in August, the occupied territory, its citizens, and their cause have won the support of many around the world.
One such vocal supporter is George Galloway, a straight-talking British politician. Galloway, who was in Karachi to attend a seminar on human rights abuses in the occupied territory, believes nations around the world will eventually reconfigure their ties with India.
"They are not moving towards Modi's India out of love but out of interest. And when a nation loses love, it loses soft power in the world," he warned in a no-holds-barred interview with The Express Tribune.
"This alone is the biggest damage Modi has caused to India," he added. The maverick former member of the British parliament said Modi's unilateral decision to revoke Kashmir's limited autonomy, and the blatant violation of human rights has tarnished his reputation in the world, and by extension India's.
"Internationally, a whole manner of things, of which the events in Kashmir are only one, have caused reputational damage to Modi, and therefore, by extension India," he said. Pouring scorn on Modi's human rights record and his administration's treatment of religious minorities, Galloway said: "The treatment of religious minorities as a whole, the Sikhs, Christians and national minorities within India, and the shocking footage that frequently emerges on social media of people being lynched, effectively by RSS militants has exposed Modi." "And the recklessness of his actions in Kashmir has put the tin hat on that," Galloway added.
The British politician said Modi, is an extremist, who is a threat to India's secular identity and perhaps to its existence in the long run. But the ruling party of Prime Minister Narendra Modi is not backing down. Instead, Modi and his government have launched other campaigns against Muslims in India, part of a far-reaching Hindu nationalist program accelerated by his sweeping re-election victory earlier this year. "People smell the whiff of extremism. Even when the Bharatiya Janata Party ruled in the past, they did not emit the kind of extremism that Modi does. And people worry about the destruction it can cause," he said.
Commending Pakistan's leadership, the British politician, who once ran for the office of London's mayor, said the world needs to know more about the atrocities in Kashmir.
"Pakistan needs to help the Kashmiri people to get the information out of the occupied territory." "We have to step up the information campaign that establishes that Modi is a firm believer in the ethnoreligious supremacist ideology. We need to show the world what is happening in Kashmir." He said the only way to help Kashmir is, by telling the stories of ordinary Kashmiri people who are suffering at the hands of Indian forces.
"We need to reach out to people in the Western audience who still think Kashmir is a scarf or a shawl, and we need to fight India's propaganda war with real information," he said. Galloway also heaped scorn on the Indian prime minister for the communication blockade in the flash-point region of Kashmir, where everyday life remains paralyzed.
For months the Indian government has maintained tight control over the flow of information from the occupied territory. Indian security forces have arrested thousands of unarmed protesters, mostly without charges under what is called preventive detention. "Very soon, people around the world will begin to question India's actions in the occupied territory. The blockade will not last long." For a country that claims to be democratic, he said it was a tragedy to see how India was restricting the flow of information from Kashmir.
"Journalists cannot be kept out of Kashmir by a country that calls itself a democracy. India will have to forfeit the term democracy and say sorry we are a dictatorship, and we don't allow free reporting," Galloway said. Apart from the information blackout, much of Kashmir's political leadership, elected representatives, teachers, students, intellectuals, and prominent merchants, are now behind bars.
"If you were in the world leadership councils right now and if no microphones were on, you would hear the leaders criticize Modi the way they criticized Israeli leader Netanyahu," he said. For Galloway, Modi is nothing more than an isolationist, who will one day be responsible for destroying India's already fragile national unity. "Modi seems to me as an arrogant person, who speaks on behalf of an ideological trend, which is extremely arrogant, xenophobic, and potentially isolationist," the former British MP said. For its gains, India, he said, is in the process of altering the demographics of the occupied territory. "And that is a dangerous trend. Everyone knows India took this trick out of Israel's play book," he said.
He warned that if India continued with its policy of modifying the demographics of Kashmir, it would lead to an armed conflict with Pakistan. "It will only provide more bodies to be in conflict with each other." "This will escalate the situation more dramatically and only make more likely the danger of war between India and Pakistan." On the rising Hindu nationalism under Modi, he said: "The Indian prime minister is playing with fire. "There is nothing wrong with Indian nationalism, but Hindu nationalism and the rise of RSS is a dangerous trend that the world must not ignore," he cautioned. Frequently criticized for his stance on Kashmir, Galloway said the Indian government repeatedly denied his visa requests. "I was once given a document to renounce all my previous statements renouncing my beliefs about Kashmir only to attend a conference in Goa, and when I refused, the Indian diplomatic mission in London kept my passport for weeks."
But there is no stopping for Galloway. He firmly believes that he stands for a just cause. "I'm not going to leave the cause of Kashmir even if I'm the last man standing, and I'm far away from that," he vowed.
For Modi, who has established a reputation as a Hindu hard-liner, with a career punctuated with reports of instigating hate against religious minorities, Galloway had one message: "Turn back, turn back from a course which can only lead you to a downward path." "Respect what most people believed about India, that it was a democratic country, and the essence of a democratic state is that minorities count, and their rights are guaranteed. Turn away from a path that will only lead you to destruction," Galloway cautioned.
Published in The Express Tribune, November 19th, 2019.