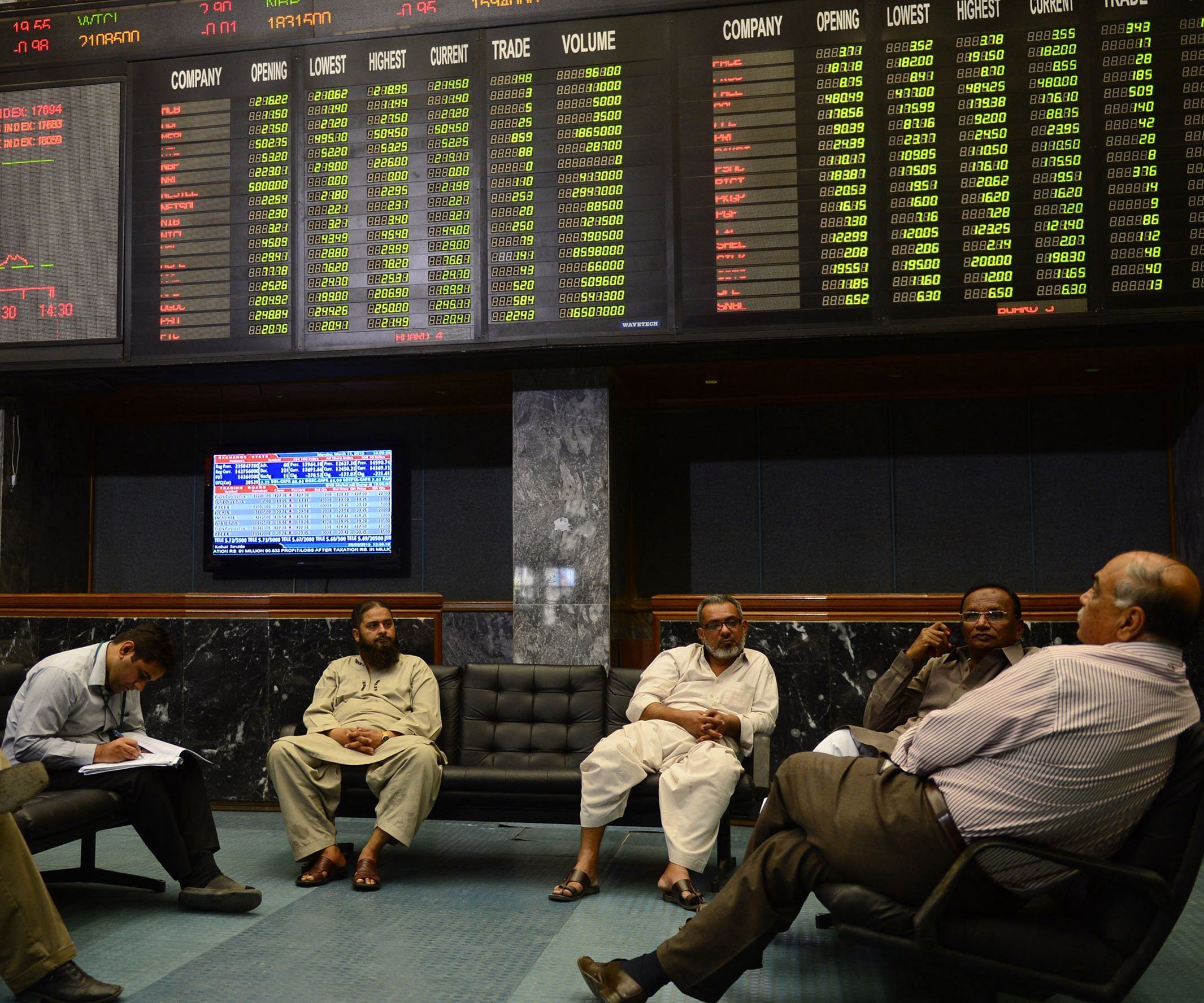 ---
KARACHI: The benchmark KSE-100 index skyrocketed and gained 828 points on Monday, crossing the 38,000-point mark and trading at a seven-month high, as political noise subsided in the country.

Investor sentiment strengthened following the Lahore High Court's decision to remove former prime minister Nawaz Sharif's name from the Exit Control List (ECL), which permitted him to travel abroad for medical treatment.

The KSE-100 index shot up as soon as trading began and rose over 500 points within a few minutes. Strong investor sentiment sparked a buying spree, which maintained the uptrend for the rest of the day.

A few dips were seen but they were rectified timely. All index-heavy sectors made handsome gains.

At close, the benchmark KSE 100-share Index recorded an increase of 827.67 points, or 2.2%, to settle at 38,411.56.

"The easing of political tensions has pushed the market upwards," Arif Habib Limited Head of Research Samiullah Tariq said while talking to The Express Tribune.

He added that political tensions subsided after former premier Nawaz Sharif was granted permission to travel abroad for medical treatment and the market welcomed the development.

Apart from that, an increase in foreign investment in fixed-income instruments like treasury bills improved the mood at the bourse and sparked extended buying across the board.

Topline Securities CEO Muhammad Sohail said expectations of lesser political noise following the Lahore High Court's decision strengthened investor sentiment.

In a report, Arif Habib Limited stated that the KSE-100 index crossed the 38,000-point level for the first time after April 3, 2019. The market was trading at a seven-month high, it added.

JS Global analyst Maaz Mulla said bulls continued to engage in a buying spree at the Pakistan Stock Exchange as the benchmark KSE-100 index closed the week's first day with a substantial gain of 828 points (+2.2%).

"Increased market activity was witnessed as daily volumes rose to 466 million shares while daily value stood at $100 million despite mixed political noise from within and beyond borders," he said.

Major volume leaders of the day were The Bank of Punjab (+3.6%), K-Electric (+5.1%) and Fauji Cement (+2.8%), contributing a cumulative 85 million shares.

Cement, exploration and production and banking sectors led the gains where Kohat Cement (+5%), Lucky Cement (+4.6%), Maple Leaf Cement (+2.6%), DG Khan Cement (+2.3%), Pakistan Petroleum (+1.7%), Oil and Gas Development Company (+0.5%), Pakistan Oilfields (+2.4%), National Bank (+5%), Meezan Bank (+4.3%), UBL (+3.9%) and The Bank of Punjab (+3.6%) were the major movers. They helped the index touched the intra-day high of 869 points.

"Moving forward, we expect the market to remain positive, however, we recommend investors to book profit on strength," the analyst added.

Overall, trading volumes increased to 466.1 million shares compared with Friday's tally of 369 million. The value of shares traded during the day was Rs15.5 billion.

Shares of 412 companies were traded. At the end of the day, 295 stocks closed higher, 98 declined and 19 remained unchanged.

The Bank of Punjab was the volume leader with 37.6 million shares, gaining Rs0.39 to close at Rs11.26. It was followed by K-Electric with 28.4 million shares, gaining Rs0.21 to close at Rs4.31 and Fauji Cement with 18.8 million shares, gaining Rs0.46 to close at Rs16.83.

Foreign institutional investors were net buyers of Rs658.4 million worth of shares during the trading session, according to data compiled by the National Clearing Company of Pakistan.