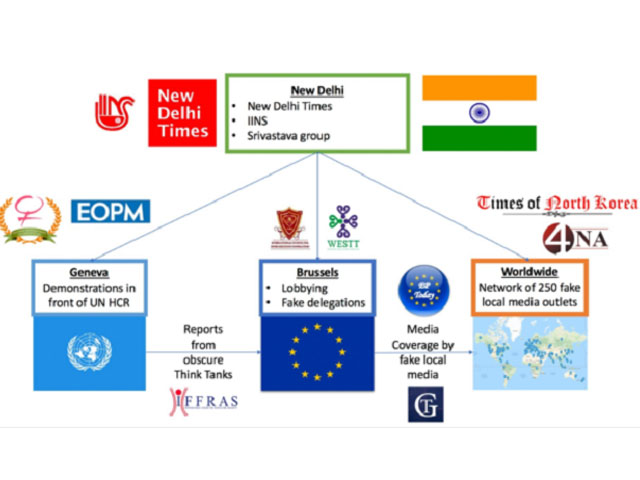 ---
Indian influence network working their way to directly impact Pakistan has a far reach than we actually anticipate.

According to a study conducted by EU DisinfoLab, there are over 256 fake local news sites operating in more than 65 countries superintended by an Indian influence network with the intention to influence EU and UN by pushing propaganda against Pakistan.


BREAKING: We uncovered a worldwide network of 265 fake media outlets in 65 countries, targeting the US, Canada, Brussels, Geneva and many more, which all serve Indian lobbying interests. (1/9)

Thread 👇

Summary: https://t.co/cgO9tXPq4f

Interactive map: https://t.co/4rjraj3FWF pic.twitter.com/xp5pb0JXrz

— EU DisinfoLab (@DisinfoEU) November 13, 2019


For example, EP Today, a monthly newspaper for the European Parliament has close ties with Indian stakeholders such as think tanks, NGOs and companies from Srivastava Group whose IP address is also connected with Indian media house The Delhi Times and the International Institute for Non-Aligned Studies (IINS).

EP Today is responsible for reproducing content from Russia Today and Voice of America and also a great number of articles and op-eds related to minorities in Pakistan.

Times of Geneva, an online newspaper that is "approaching 35 years in business" has published the same content as EP Today and produces videos covering events critiquing Pakistan's role in the Kashmir conflict.

Both media houses had close ties with NGOs and think tanks such as the European Organisation for Pakistani Minorities (EOPM), and Pakistani Women's Human Rights Organisation.

In fact, staff and servers working for these organisations had previously worked for EP Today.




Searching into IP Addresses and Twitter accounts led researchers to 4newsagency.com which is a conglomerate of four news agencies from Switzerland, Belgium, Thailand, and Abu Dhabi (UAE) with team members assigned in 100 countries.

'Indian media fanning war hysteria'

The same patterns were observed as EP Today and Times of Geneva.

The same content was published with extra coverage on Indian-related matters and anti-Pakistani content, most of the media houses are named after old local newspapers or are take-offs of real media outlets.

These websites also have active Twitter accounts.

The main reason behind setting up these fake media outlets is to influence international institutions and elected representatives with focusing on issues that are in favor of one particular party and manipulate perception concerning Pakistan.