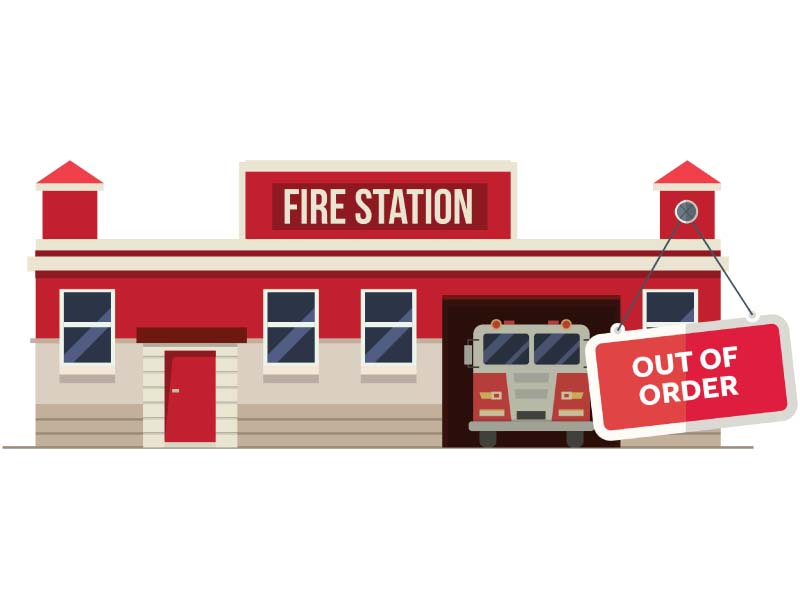 ---
KARACHI: Karachi is sitting on a tinderbox.

If the city of 20 million people was to comply with international standards, it would have had 200 fully functioning fire brigade stations staffed with more than 10,000 personnel, according to fire safety experts.

That is one fire station for every 100,000 citizens, equipped with four fire tenders and staffed with over 50 operational personnel working round the clock in shifts. Each shift would have at least 16 firefighters, eight drivers, four leading firemen, two sub fire officers and, of course, one station officer, on call and ready to go.

And we haven't even touched upon the 20-strong support staff which includes everyone from telephone operators to clerks and janitorial staff.

Running on empty: Fuel supply suspension compounds Karachi fire dept's woes

Far from that ideal state of affairs, only half of the almost two dozen fire stations that do exist in the metropolis are in working condition. Ten of the city's 23 firehouses have been forced to shut down due to persistent negligence and lack of interest from relevant authorities, according to officials.

Crumbling due to neglect

A survey of the remaining stations revealed a situation even more dire. Only 13 of the Karachi Fire Brigade's 50 fire tenders are currently in use with the rest rotting out of order. This means that each fire station currently operating only has one fire tender it can rely on. If it fails, the entire station in effect is rendered useless.

All of the functional firehouses also lack other important firefighting equipment and facilities. Take snorkels for example - only two of the brigade's entire inventory of six are in working condition. Other equipment no longer usable includes four bowsers and one radio control mobile unit.

Many of the fire stations lack overhead and underground water tanks as well. Not to mention, the firehouses only receive water from the Karachi Water and Sewerage Board (KWSB) for two to six hours a day, rather than round the clock.

According to officials, the entire department also has no comprehensive plan for obtaining adequate water for firefighting activities in industrial, residential and commercial areas. In case of fire incidents, they either look for KWSB hydrants or rely on KWSB tankers to reach the site with water, creating unnecessary delays.

Concrete tinderbox

The dilapidated state of Karachi's firefighting mechanism is especially alarming considering the city's urban landscape. With two ports, seven industrial zones and several densely packed residential areas and slums, fire hazards in the metropolis are manifold, experts pointed out.

Lack of planning and negligence on the part of the Sindh Building Control Authority (SBCA) and other government wings has resulted in a concrete jungle of high-rises, none of which have adequate fire safety and evacuation facilities, they said. The absence of a fire safety code means many buildings operate without fire escapes and basic fire-extinguishing apparatus. As a result, an effective fire brigade is the only other option for the city to ward off a massive fire disaster.

"Nearly 4,500 fire incidents occur in Karachi each year," said Fire Station Officer Mazhar Rafiq. "Most of them occur due to faulty wiring. Most such incidents, especially the serious ones, also take place in industrial zones and commercial areas," he added.

"There is a dire need for fire escape routes and fire dousing tools in Karachi's high-rises. Around 99 per cent of them lack these facilities," said Chief Fire Officer (CFO) Tehseen Siddiqui. "It is the SBCA's responsibility. It should only approve a map for every building if it has an adequate fire safety plan and ensures that safety features are installed during construction."

According to the experts, each district of Karachi needs at least two snorkels. They also stressed that overhead and underground tanks are an absolute must for any firehouse. Only Ranchor Line, Landhi, Sohrab Goth, Orangi, Manzoor Colony, Baldia Town and SITE fire stations currently have underground and overhead tanks, but due to seepage, those of the last two are not in use.

Repair workshops in disrepair

Talking about the out-of-order fire tenders, a fire brigade official said the department has three workshops in the headquarters at Landhi and at the Sohrab Goth firehouse, but due to lack of state-of-the-art facilities, they have been unable to carry out repairs for 10 years.

"We used to repair all fire tenders in house 10 years ago," admitted a fire department sub-engineer on condition of anonymity. "But the workshops were not upgraded and a policy to outsource repairs was put in place. In the meantime, 50 experienced staff members retired and now only 21 technicians and sub-engineers remain."

The sub-engineer added that the workshops could start carrying out timely repairs again if upgraded to the latest standards and if merit-based appointments are made. "It could save millions of rupees annually," he insisted.

CFO Siddiqui, however, was bleaker in his assessment. "The KMC fire tenders are 25 to 30 years old. All of them need repairs on a daily basis. Each year, around Rs50 million is earmarked just for this."

Struggling with money and manpower

Speaking to The Express Tribune, Karachi Metropolitan Corporation (KMC) Sajjan Union (CBA) President Zulfiqar Ali Shah blamed the fire department crisis on a dearth of finances.

"KMC has been in a financial crisis for several years now. For the past four months, KMC has been unable to pay employees their increased wages according to this fiscal year's budget. Retired employees have also been deprived of their benefits for the past four years," he said.

"Because of this crunch, the fire brigade has faced extreme neglect. We could neither repair out of order equipment nor procure replacements. No firefighter has even been paid a fire risk allowance in the last 17 months," he complained.

Beyond the lack of facilities, Shah also highlighted that the force was facing an extreme manpower shortage. "Far from expanding the service, of the 1,353 posts currently in the department, 230 have been vacant for years due to a ban on appointments," he said.

The firefighters currently in service perform their duties despite grave risks to their health and life, he stressed. "They are not provided proper fireproof overalls, boots, gloves, helmets and masks. They don't even get torches and axes. No new uniforms have been provided for five years."

Despite this, KMC does not pay firefighters a medical allowance for injuries incurred in the line of duty. "They have to bear expenses on their own," Shah said. He added that even the government quarters they live in are in a state of disrepair for years.

"Despite tall claims, neither the federal nor provincial government has looked into resolving the Karachi Fire Brigade's issues. Five years back, the Sindh government promised to procure 80 fire tenders. It ended up getting us only three and one snorkel. Similarly, the federal government vowed to provide 50 fire tenders and four snorkels a year and a half ago, but so far has not even given us one," he complained.

CFO Siddiqui, however, said the Sindh government has approved Rs290 million to pay the unpaid fire risk allowance. "It should be issued in a week. KMC is also making efforts to pay the remaining Rs100 million worth of dues and it is expected that the Sindh government will approve funds for this purpose soon as well," he added.

Published in The Express Tribune, November 14th, 2019.