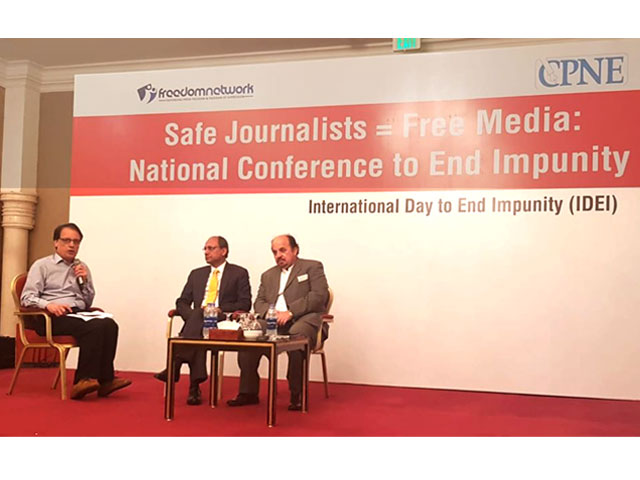 ---
KARACHI: Sindh Information Minister Saeed Ghani announced on Tuesday that the provincial assembly, for the first time in the country's history, would pass the journalists' safety law.

"I don't think there's any issue in that… it will be reviewed by the law department if any changes are required," he told the National Conference to End Impunity, organised by the Freedom Network in association with Council of Newspapers Editors (CPNE) in Karachi.

"I am 99% sure that it [the law on journalists' safety] will be passed by the Sindh Assembly," Ghani told the conference, held to unveil key findings of the Pakistan Impunity Scorecard 2019.


#Sindh govt to pass first #journalists_safety_bill, @SaeedGhani1 tells @pressfreedompk-held #ImpunityConference in #Karachi in partnership with #CPNE
"99% assured @PPP_Org govt will pass this law," he added.@BBhuttoZardari@unescoisb @UNESCO @FarhatullahB @forfreemedia pic.twitter.com/3IJLAHlqrC

— Freedom Network (@pressfreedompk) November 12, 2019


Pakistan, which ranks 142nd out of 180 on the World Press Freedom index, is among the countries where journalists are murdered and their killers go free.

Freedom Network's Iqbal Khattak said that the draft, prepared in consultation with editors, journalist unions and other stakeholders, recommended the appointment of a special prosecutor to investigate and prosecute crimes against journalists, and a journalists' protection council.

"The draft which was presented before a Senate sub-committee during tenure of the last government has now been shared with Sindh and they've assured us to get it through," he told The Express Tribune.

Khattak said that a committee, comprising members from Freedom Network, CPNE officials and the Sindh government would also be formed to oversee and fast-track the legislation process.

Speaking on the occasion, senior journalist Arif Nizami said the biggest challenge facing the press today was its survival, which could only be met through unity in its ranks. "I have witnessed martial laws in my career, spanning over 40 years, but today's restrictive and suffocating environment is unprecedented," he told the audience.

Pakistan among world's worst for unsolved journalists' murders

Though the official perception was that the media was free, he said, the situation was the opposite amid self-censorship, gag orders, lay-offs and salary cuts and delays.

Nizami said there was a time when press advices were looked down upon in journalism but now dozens of such advices were sent to journalists via WhatsApp every day. "These things can only be dealt through unity and action… problems shall not be resolved through speeches," he said.

Ghani agreed with Nizami. There must be unity among the ranks to take corrective measures in the prevailing "environment of fear", he said. "At some point we will have to say no… the problem is with the society and we will have to correct it together."

Ihsanullah Khan, brother of slain journalist Hayatullah Khan (whose widow was also killed in a bomb explosion a year later) from North Waziristan, also spoke on the occasion. "After the tragedy, we left North Waziristan for Peshawar… I was very young and had no means to earn livelihood," he said.

"We had a hard time but thanks to some senior journalists who supported the family," he added. He regretted that the organisation Hayatullah was working for, did not support him after his death.

Hence, he called for an insurance system as well as a law for the protection of journalists. "Life insurance system should be introduced for journalists… such that when they're martyred at least their families can survive," Ihsanullah said. "No one should experience what we went through… there should be legislation for the protection of journalists… no one should be able to kidnap, torture or kill them and escape with impunity."

Findings of the Pakistan Impunity Scorecard 2019 were also presented in the session. According to the report authored by Adnan Rehmat, at least 33 journalists have been killed in the country since 2013. While cases were registered in 32 killings, no killers have been punished for their crimes so far.

Farhatullah Babar, IA Rehman, Mazhar Abbas, Ghazi Salahuddin and Firdous Shamim Naqvi, among others were also part of the discussion.
COMMENTS
Comments are moderated and generally will be posted if they are on-topic and not abusive.
For more information, please see our Comments FAQ