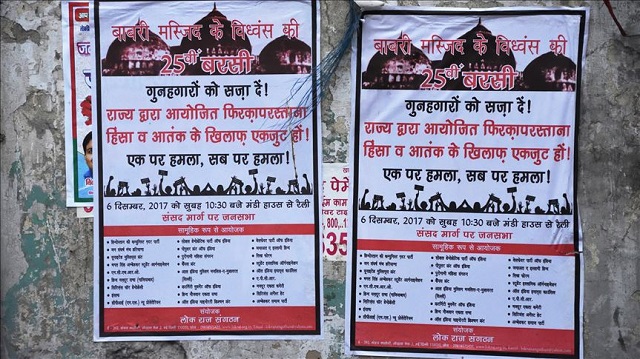 ---
KARACHI: As Indian Supreme Court on Saturday handed over the site of 16th century Babri Mosque to Hindus for the construction of a temple, Sikh community in Pakistan feels that the verdict should have taken a queue from Lahore's Shahid Ganj Gurdwawa (Sikh place of worship) case.

The two cases bear striking resemblance in terms of claims and litigation.

They also termed the timing of the verdict "surprising", as it coincided with the opening of Kartarpur border between India and Pakistan to facilitate Sikh pilgrims to visit their places of worship.

"The two sites (Babri Mosque and Shahid Ganj Gurdwara) share a close resemblance in terms of litigation, but not in terms of the outcome," Sardar Ramesh Singh, the chairman of Pakistan Sikh Council, told Anadolu Agency.

Ramesh gave credit to the Muslim community for conserving Shahid Gunj Gurdwara and not converting it into a mosque after the creation of Pakistan.

"The land of Babri Mosque has been taken away from Muslim minority in India, whereas the Gurdwara of minority Sikh community still stands at the same site in Muslim-majority Pakistan," he said.

Pakistan opens its border and its heart for Sikh community at Kartarpur

The history of the building known as Shahid Ganj Gurdwara -- also called Bhai Taru Singh (a Sikh religious scholar) Gurdwara -- has striking resemblance with the dispute of Babri Mosque, demolished by a frenzied Hindu mob on December 6, 1992 and now its site has been handed over to Hindus for the construction of a temple.

Constructed by Kotwal (Chief Police Officer) of Lahore Abdullah Khan, during the reign of Mughal Emperor Shah Jahan in 1653, Shahid Ganj was a mosque till 1799, till Sikh Army under Maharaja Ranjit Singh captured the city defeating Afghans. They converted it into a gurdwara and barred entry of Muslims.

In 1849, when British took control of Lahore by defeating Sikh Empire, Muslims pleaded for the return of the mosque and knocked the court. But the court using law of limitations, rejected the plea and questioned the delay of 51 years for claiming the mosque. The London-based Privy Council, the highest court of appeal during British era also rejected Muslim claim on May 2, 1940.

Gurdwara protected by local Muslims

"Only a few Sikhs were left in the surroundings of Gurdwara, following a huge Sikh exodus in 1947. If the local community had insisted its conversion into mosque, nobody would have stopped them", said Ramesh.

Sardar Charanjeet Singh, a Sikh community leader in Peshawar said India should learn from Pakistan in terms of protecting places of worship for minorities.

"Another Gurdwara was also re-opened in Peshawar five years ago, with the assistance of local Muslims", Charanjeet, who also runs a facebook page "Peshawari Singh", told Anadolu Agency.

He was referring to Gurdwara Baba Biba Singh -- named after a 17th century Sikh religious scholar.

The Gurdawra had been closed following migration of Sikhs from Peshawar to India in 1947.

Currently, Peshawar hosts the largest population of Sikhs in Pakistan, who started settling down here from adjoining tribal areas and other parts of the country in 1960s for businesses and jobs.

The number of Sikhs in Pakistan is estimated between 30,000-40,000 out of some 200 million population of this South Asian Muslim country.

Apart from Peshawar, he said, two other Gurdwaras had recently been re-opened in Mandi Bahauddin and Gujrat districts of Punjab with the help of local Muslims.

Both Ramesh and Charanjeet termed timing of the verdict as "surprising" and "unfortunate", when Sikhs were celebrating 550th anniversary of their founder Baba Guru Nanak and the opening of pilgrim corridor, along Kartarpur border between India and Pakistan.

"The judgment had been pending for over a long time. The Supreme Court could have waited a bit more. But it chose to announce the verdict on this occasion, which could have been taken as a point for inter-communal harmony in both countries," he said.
COMMENTS
Comments are moderated and generally will be posted if they are on-topic and not abusive.
For more information, please see our Comments FAQ