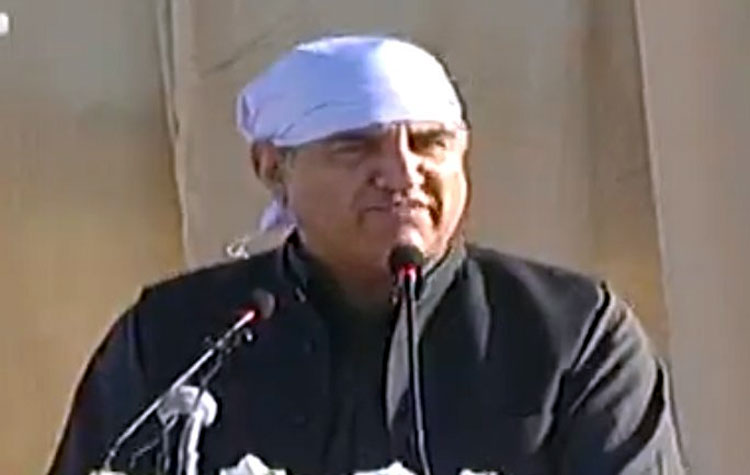 ---
Foreign Minister Shah Mahmood Qureshi on Saturday invited Sikh pilgrims from all over the world with open hearts and arms to witness the hospitality of the Pakistani nation.

"We welcome you with open hearts and arms. Come from the world over and witness the hospitality of the Pakistani nation," he said.

On the auspicious occasion of the Kartarpur Corridor inauguration for the 550th birth anniversary of Baba Guru Nanak, the foreign minister congratulated the global Sikh community.

"Baba Guru Nanak gave a message of peace and love. It is the seeds of love planted by Baba Guru Nanak that have blossomed today," said FM Qureshi.

Pakistan opens its border and its heart for Sikh community at Kartarpur

The foreign minister lauded Prime Minister Imran Khan's initiative, adding that the prime minister had made a promise to the Sikhs that he would "forge a path of love and peace".

He said the world is witnessing steps being taken by Pakistani government for the promotion of interfaith harmony.

"The credit of this historic day goes to Prime Minister Imran Khan who has spoken for the protection of rights of minorities in accordance with the Islamic teachings and the vision of Quaid-e-Azam Muhammad Ali Jinnah," he added.

Qureshi said the government has identified four hundred temples which will be renovated.

Referring to the situation in Indian Occupied Kashmir, FM Qureshi said a promise was made by the Indian prime minister 72 years ago, which is yet to be fulfilled.

"Let us solve the issue of Kashmir," he added.

He said Baba Guru Nanak preached the message of love, harmony and respect for humanity and the same message was preached by Sufi saints.

Qureshi said this message of peace should also reach occupied Kashmir where people have been confined to their homes and not allowed to offer their Friday prayers.

In a landmark peace move, Pakistan government opened the Kartarpur Corridor today, for the followers of Guru Nanak, allowing them to visit the revered Sikh Guru's final resting place without a visa.

The 3-kilometer corridor provides visa-free access to Sikh pilgrims, allowing them to travel to Gurudwara Darbar Sahib in Kartarpur, where Guru Nanak, the founder of Sikhism, spent the final years of his life. The passage links Narowal district to Dera Baba Nanak in Gurdaspur in Punjab, India.
COMMENTS
Comments are moderated and generally will be posted if they are on-topic and not abusive.
For more information, please see our Comments FAQ