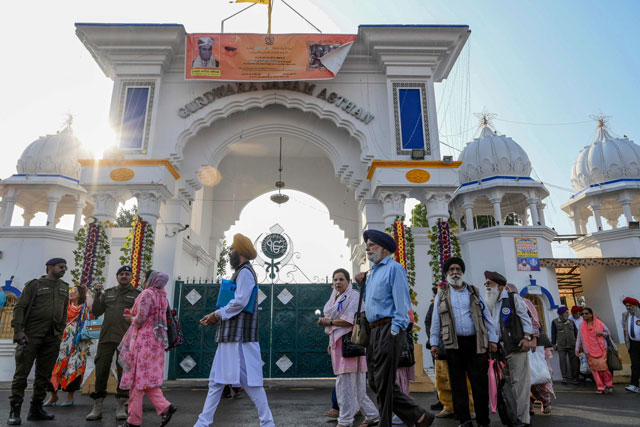 ---
Thousands of Sikhs from across the globe have converged in Nankana Sahib, Punjab to celebrate the 550th birth anniversary of Baba Guru Nanak, the founder of their religion.

What makes the occasion special this year is that it also marks the opening of Kartarpur border crossing between India and Pakistan.

Notwithstanding a chill in bilateral ties over occupied Kashmir, Pakistan and India after tough negotiations signed a landmark agreement last week, to operationalize the corridor allowing Indian pilgrims to visit the holy Sikh shrine.

The three-day event will be held from November 10-12 in the Punjab district -- the birthplace of Baba Guru Nanak- located around 80km from Lahore.




It will coincide with a separate event in the border town of Kartarpur, which also houses a historic Gurdwara – Sikh house of worship, where Guru Nanak settled and died in 1539. The two countries decided that 5,000 pilgrims from India can visit this shrine daily without showing travel permits.

"Over 7,000 Sikhs from different parts of the world have already gathered in Nankana Sahib, while thousands more are expected to join us, in the next couple of days," Sardar Gopal Singh, a Pakistani Sikh community leader said.

"We are very excited not only because it is our prime occasion, but also because of the opening of the Kartarpur border crossing," Singh said, adding that the festival would give Pakistani Sikhs an opportunity to see their near and dear ones from across the world.

Sikh special association with Pakistan

Pakistan is home to some of the most important pilgrimage sites for Sikhs. They include the Kartarpur Sahib Gurdwara and Gurdwara Panja Sahib in Hasan Abdal town, where the handprint of Guru Nanak is believed to be imprinted on a boulder.

These sites are visited by thousands of Sikhs from neighbouring India, Europe and Canada every year.

"Sikhs across the globe have a very special association with Pakistan, as the birthplace [Nankana Sahib] and the place of death [Kartarpur Sahib] of the founder of their religion Baba Guru Nanak are here", said Iqbal Qaiser, a Lahore-based historian and writer of Punjabi language.

Punjabi is the common language of the province of Punjab, partitioned between Pakistan and India.

Qaiser – author of Historical Sikh Shrines in Pakistan, one of detailed books on holy Sikh sites in Pakistan – described the opening of Kartarpur border as one of the most important developments in the recent India-Pakistan history.

"It was not India that had been divided in 1947. It was actually the Punjab that had been divided into two parts," he said. "Opening of Kartarpur crossing means the Punjabis [from both sides of the border] are coming closer," he maintained.
COMMENTS
Comments are moderated and generally will be posted if they are on-topic and not abusive.
For more information, please see our Comments FAQ