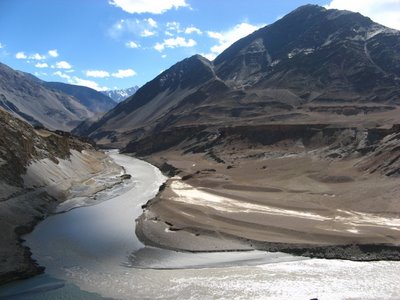 ---
LAHORE: With Pakistan-India ties at their lowest ebb due to the Narendra Modi government's unilateral decision to strip Occupied Kashmir's special status, New Delhi seems to be pursuing a 'water offensive' against Islamabad.

A top Indus Water Commission official warned that Indian authorities are pressing ahead full steam with projects on the Indus River and its tributaries that pose a serious threat to Pakistan's water security and could prevent the country from receiving its due share. He pointed out that New Delhi had so far responded with a cold shoulder to several requests for a joint survey of the aforementioned schemes.

"We have written seven letters to our Indian counterparts since 2014 asking to be allowed to inspect these projects, particularly the new reservoirs New Delhi is building," Additional Indus Water Commissioner Sheraz Memon told The Express Tribune. "As usual, all we have gotten in return is silence."

According to Memon, there are as many as six dams India is currently building on the Chenab River that Pakistan has not been taken into confidence over. "The projects we have not been allowed to visit include the Pakal Dul and Ratle dams being built on the Chenab River," he said. "We have also not been allowed to inspect the Wular Barrage, being built on Jhelum River.

"And then there is Kishanganga, of course. Not only has India not let us inspect it, it has not shared the design details either. We have not been provided design details for Ratle Dam as well," he added.

Diplomats laud Pakistan's Kartarpur initiative

"Memon revealed that officials from Pakistan's Indus Water Commission did hold two-day talks with their Indian counterparts in August. "However, Indian officials had a negative attitude throughout the moot and ultimately, they deviated from the agenda," he said.

"Indian officials did inform us about the floodwater discharge in the Sutlej River from their side in the meeting, but this information was two months too late by that time. Such an attitude on India's part is criminal."

Speaking about the Kishanganga Dam issue, Memon said Pakistan approached World Bank as a last resort after India ignored several requests for the sharing of design details. "The World Bank, as we know, advised us to accept the offer for a neutral expert. Although New Delhi endorsed this option at first, it ultimately backed away from it. Till now, it has held no talks with us on the matter," he added.

Speaking to The Express Tribune, Barrister Ali Zafar said he pursued the matter fervently during his tenure as information minister. "I compiled a detail report on the Kishanganga issue and also spoke with World Bank officials on the appointing of a neutral expert to review Indian projects on the Indus River and its tributaries," he said.

"We also wrote to Indian authorities several times, but they have been persistently quiet on these issues," he added. Going forward, he urged the government to approach the World Bank and United Nations Commission on Human Rights to raise the profile of Pakistan's water concerns globally.

Speaking on condition of anonymity, some Indus Water Commission officials said at least part of Pakistan's present predicament was because of the body's reluctance to obtain the services of professionals in the field.  According to them, a positive step currently underway is to move the Indus Water Commission's headquarters from Lahore to Islamabad so that it can engage with diplomatic circles better.