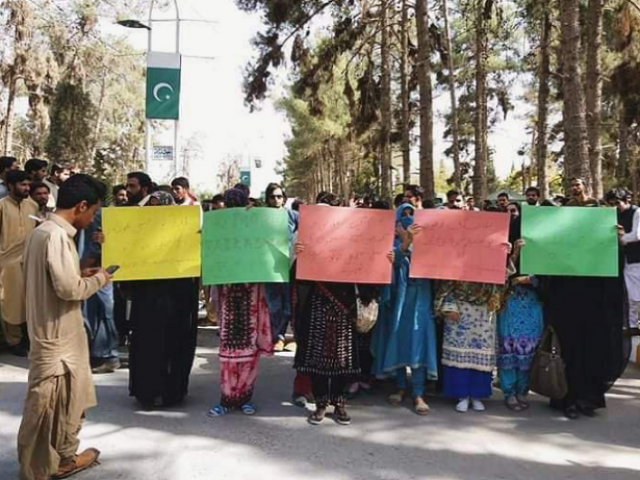 ---
ISLAMABAD: A Senate panel on Friday took notice of the alleged blackmailing and harassment of the University of Balochistan (UoB) students through secretly made videos and called for removal of unnecessary cameras as well as existing security personnel from the campus.

The Senate Standing Committee on Human Rights meeting chaired by Senator Mustafa Nawaz Khokhar got briefing on the student harassment scandal from the UoB's current vice chancellor.

The VC briefed the committee about the incident and said 92 cameras had been installed on the campus. "However, there were also seven hidden CCTV cameras that were installed without intimation by the security staff. Six of these cameras have been removed," he said.

He said the university was concerned over this 'shameful act' and further investigation was under way. He said everyone is aware of the status of women in the Pashtun and Baloch societies.

He told the panel that former VC Professor Javed Iqbal had been suspended and the next hearing of the case was scheduled for October 29. He requested the committee to visit the university.

Balochistan University students continue protest against campus harassment

The female students of the university also appeared before the committee and lodged numerous complaints. Later, the committee decided to hold its next meeting on the UoB campus. Khokhar said blackmailing and harassment of students by university staff was a shameful act.

A committee member, Jehanzeb Jamaldini – who also hails from Balochistan – said more complaints were surfacing against the former VC.  He said female students were failed with assistance of some female teachers. "Students were being harassed for a long time while the university was turned into a Frontier Corps camp."

Senator Tahir Bizenjo questioned as to who had issued orders to install cameras and who was held accountable after the scandal. He said the former VC must be held answerable.

"When a war is won, the commander receives the first medal even though he does not fire a single bullet. Hence the investigation must commence from Professor Javed Iqbal." He said if student organizations had been active then this situation would not have occurred.

The committee later ordered the university administration to remove unnecessary cameras and existing security team on the campus. It also recommended posting of the security personnel at the entrance and exit gates of the university.

The National Commission on the Status of Women (NCSW) Chairman Khawar Mumtaz also appeared before the panel and submitted a report of the commission. She appealed to the committee to implement anti-harassment law in Balochistan and all over the country.

The committee chairman recommended that the Higher Education Commission chairman also review the issue of security and installation of the camera at the UoB.