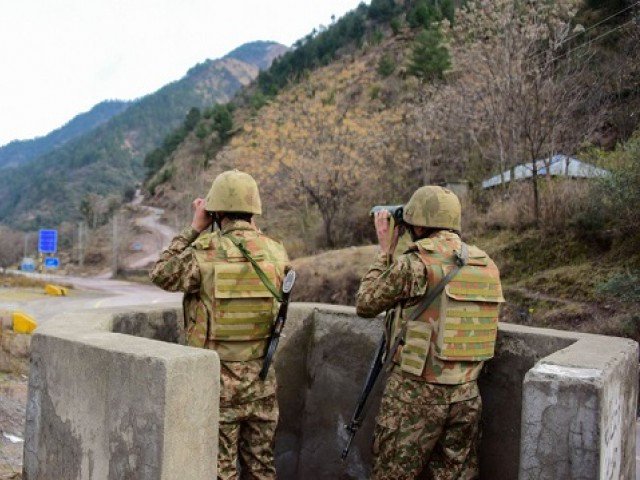 ---
ISLAMABAD: The Foreign Office (FO) on Friday summoned Indian Deputy High Commissioner Gaurav Ahluwalia over unprovoked ceasefire violations by the Indian forces along the Line of Control (LoC).

On LoC tour, diplomats find 'no evidence of terror launch pads' as claimed by India

Spokesperson Dr Mohammad Faisal summoned the Indian envoy and condemned the unprovoked ceasefire violations by the Indian forces along the Line of Control (LoC) in Shahkot and Khuiratta Sectors on October 24, said an FO statement.

Three civilians in Neelum district embraced martyrdom, while a four-year-old in Khuiratta district sustained serious injuries due to Indian firing on Pakistani villages.

"The Indian occupation forces along the LoC and Working Boundary [WB] have continuously been targeting civilian populated areas with artillery fire, heavy calibre mortars, and automatic weapons, which still continues," said Dr Faisal.

"This unprecedented escalation in ceasefire violations by India is continuing from the year 2017 when the Indian forces committed 1970 ceasefire violations."

The FO spokesperson termed the LoC ceasefire violations by India as a threat to regional peace and security that could lead to a strategic miscalculation.

"The deliberate targeting of civilian populated areas is indeed deplorable and contrary to human dignity, international human rights and humanitarian laws."

Dr Faisal urged New Delhi and Indian forces to respect the 2003 ceasefire arrangement in letter and spirit, investigate the rising incidents of LoC firing and maintain peace on the borders.

Pak-India ties

Tensions between the neighbours escalated sharply following New Delhi's move to revoke the autonomy Indian Occupied Kashmir (IOK) in August.

Pakistan expelled India's ambassador and suspended bilateral trade soon after and launched an international diplomacy campaign in an attempt to draw global condemnation of India's treatment of Kashmiris.

US welcomes Kartarpur corridor agreement between Pakistan, India

Prime Minister Imran Khan made an impassioned address at the United Nations General Assembly in New York on September 27, saying there would be a bloodbath once India lifts a curfew and that any all-out conflict between the nations would reverberate far beyond their borders.

India claims its revocation of autonomy is an internal matter that will allow its portion of Kashmir to develop economically.
COMMENTS
Comments are moderated and generally will be posted if they are on-topic and not abusive.
For more information, please see our Comments FAQ