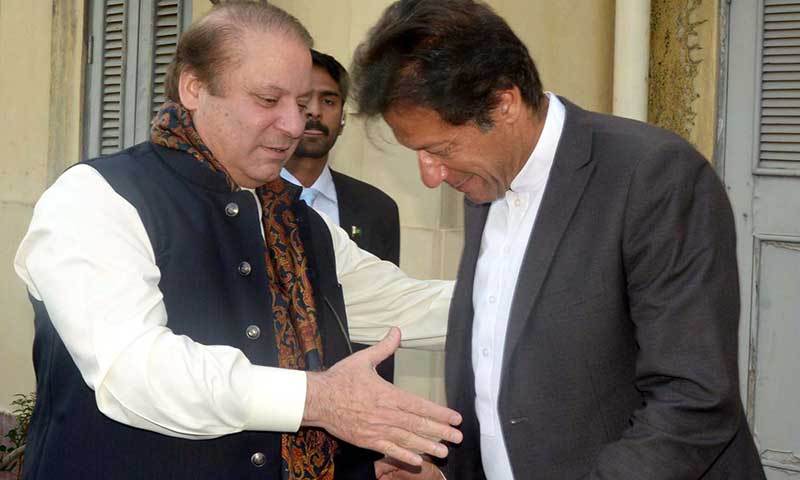 ---
LAHORE: Prime Minister Imran Khan has said his government will respect the judiciary's decision regarding former premier Nawaz Sharif's medical treatment.

Speaking to the media on Friday, Punjab Health Minister Yasmin Rashid said PM Imran has instructed her to inform the public that the government will follow and implement whatever decision the courts take on Nawaz's treatment.

"We [the government] will follow the courts' orders. We will not compromise on his [Nawaz's] health," she asserted.

Two petitions are being heard on the matter as of now, both filed by Pakistan Muslim League - Nawaz (PML-N) President Shehbaz Sharif.

Yasmin said the Punjab government had sent a copy of Nawaz's medical reports to the LHC, which is hearing a petition seeking Nawaz's release on medical grounds from the National Accountability Bureau's (NAB) custody in the Chaudhry Sugar Mills.

Another petition for the suspension of his sentence in the Al-Azizia case is being heard by the Islamabad High Court (IHC). Nawaz was given a seven-year sentence in the corruption reference by an accountability court.

The PML-N supremo has now been diagnosed with acute idiopathic thrombocytopenic purpura (ITP) and is undergoing Intravenous Immunoglobulin (IVIG) therapy at Services Hospital in Lahore.

Nawaz to be given four IVIG doses till Monday

Updating the media about Nawaz's health, Yasmin said his latest platelet count of 22,000 showed that his body was responding to the IVIG treatment.

"There is no internal bleeding," she clarified. "He [Nawaz] was told not to brush his teeth but he did and that caused bleeding from his gums."

She said the government would release the reports to the media on Friday evening.

The Punjab health minister said she met Nawaz and he was satisfied with the ongoing medical treatment. "We have offered to bring in doctors from abroad. Punjab Chief Minister Usman Buzdar has a plane on standby."

Yasmin told reporters she was personally following all developments to ensure the PML-N supremo was being provided the best possible care. "Political differences aside, it is the government's responsibility to provide everyone the best health care facilities."

PTI govt, PML-N spar on Nawaz's condition after ITP diagnosis

When asked if the former premier had completely recovered, the provincial health minister said: "Nobody can guarantee anything when it comes to health."

She said Nawaz's condition had improved but problems still persisted. "His sugar levels increased last night due to steroids but they later stabilised."

Responding to a question about Maryam Nawaz, the minister said the PML-N vice-president was brought in for treatment as soon as she complained about her health.

"I was at the hospital when Maryam was brought in. Tests were conducted and all results were normal. She was only shifted back to prison when her condition stabilised."

Maryam was arrested by NAB in the Chaudhry Sugar Mills case and is currently imprisoned at Kot Lakhpat Jail in Lahore.

My sincere prayers are with Nawaz Sharif, says PM

Acute Idiopathic Thrombocytopenic Purpura

More commonly referred to as immune thrombocytopenia (ITP), it is a disorder that can lead to easy or excessive bruising and bleeding.

According to Mayo Clinic, the bleeding results from unusually low levels of platelets — the cells that help blood clot. The symptoms include easy or excessive bruising, superficial bleeding into the skin that appears as pinpoint-sized reddish-purple spots (petechiae) that look like a rash – usually on the lower legs, bleeding from the gums or nose.

Intravenous immunoglobulin (IVIG) therapy

According to Harvard Medical School, intravenous immunoglobulin is primarily used to treat other autoimmune and inflammatory conditions.

Intravenous immunoglobulin (IVIG) contains the pooled immunoglobulin G (IgG) immunoglobulins from the plasma of approximately a thousand or more blood donors, according to E-medicine.
COMMENTS
Comments are moderated and generally will be posted if they are on-topic and not abusive.
For more information, please see our Comments FAQ