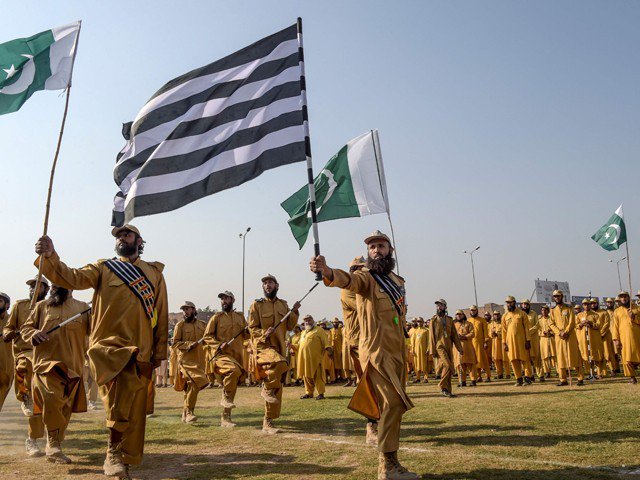 ---
ISLAMABAD: The government has banned Ansarul Islam, a subordinate organisation of Maulana Fazlur Rehman-led JUI-F, and authorised the provinces to take action against the outfit.

A notification issued by the Ministry of Interior on Thursday said the outfit "is capable of functioning as a military organisation", warranting an action.

The moves comes as preparations of opposition parties staging an anti-government protest in the federal capital are in full swing. The October 31 protest dubbed as 'Azadi March' aims to oust Prime Minister Imran Khan, claiming that his government came into power through rigged elections.

"...after obtaining the consent of all provincial governments...the federal government through ministry of interior entrust the provincial governments the power to take appropriate actions under Section 2 of the Private Military Organisations (Abolition and Prohibition) Act, 1974 against Ansarul Islam," said the notification.

This shall include, it added, "the power to ban/abolish the said organisation and take further steps against them on ground...".

All major opposition parties including PML-N, PPP, ANP and PkMAP have announced their support for the anti-government demonstration.

PTI govt decides to ban JUI-F' s Ansarul Islam 'militia'

Earlier, according to sources, a summary seeking ban on Ansarul Islam had been forwarded to the Ministry of Law and Justice and the Election Commission of Pakistan.

The summary said Ansarul Islam is a "lath bardar" (stick wielding) subordinate outfit of the JUI-F and the law does not allow any type of "armed militia".

Ansarul Islam came in the limelight earlier this month after it presented a guard of honour to the JUI-F chief, which was perceived as a show of force against the government.

At least 3,000 volunteers of the organisation are registered with the ECP, and their job is to provide security to the top leadership of JUI-F, and maintain discipline.


COMMENTS
Comments are moderated and generally will be posted if they are on-topic and not abusive.
For more information, please see our Comments FAQ