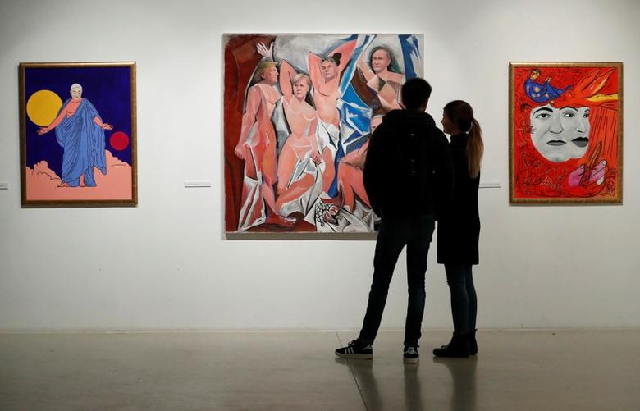 ---
KARACHI: Under the shadows of looming grey skies and consumed by a maze of concrete, many of Karachi's residents complain that the metropolis has lost its original charm.

"[Migratory] birds no longer visit the city as often and the life of its resident is marred by the menace of climate change," grieved a citizen to Muhammad Zeeshan, during one of his excursions in the port city.

This and other reflections of similar nature convinced Zeeshan - the curator for Karachi Biennale's (KB) second iteration - to base this year's theme for the public art show on ecology. He wanted to avail the opportunity to evoke public interest in art and believed that ecological decay and climate change are two of the subjects that have posed a dilemma to almost everyone in society.

The curator's discovery

"When I was informed that I am going to be the curator for KB'19, I visited different areas in the city and interacted with people from diverse backgrounds, including artists, urban planners, sociologists, architects, those who have been involved in building Karachi and those who experienced living here through thick and thin," he disclosed. Talking to people, he realised that they all are concerned about ecology and the environment, Zeeshan said.

Art for Change: Child arts exhibition impresses visitors

As the curator toured the city, realisation dawned upon him that the problem resonates with everyone. People miss seeing flocks of birds flying across the city's skies and lament having to live a life blemished by the consequences of climate change, he said. This eventually convinced him to title this year's iteration of the art show as 'Flight Interrupted: Eco-leaks from the Invasion Desk,' focusing on the cost of Karachi's development footprint and how the coastal city has turned into an ecological disaster, so that the masses are better able to connect with the exhibits.

"I am trying to bring art within a layman's approach so that the public doesn't stress over understanding a piece of art," he said. Bringing art closer to them, "be it a swing in the garden or a bench in their surroundings," will enable people to appreciate the discipline and connect with it on a deeper level.

Increasing reach

In line with the aim to raise public interests in the biennale, the show will be organised outside the confines of art galleries. Spread across seven venues, art pieces will be put on display at Karachi Zoo, The Indus Valley School of Art and Architecture, Alliance Francaise de Karachi, Bagh Ibne Qasim, The Sadequain Gallery, NED City Campus and VM art gallery.

WATCH: Sculptor transforms dead trees into art

Speaking in this regard, Zeeshan reiterates that he seeks everybody's engagement with art pieces at the biennale and hence, has decided on a range of venues so that everyone is able to attend the event.

"I understand that a venue like Alliance Franciase de Karachi will attract a different set of audience than those who will, say, visit the Karachi Zoo," he said, adding that keeping multiple venues will make it easier for everyone to attend the exhibition.

Lamenting the dearth of public art and museums in the city, he stressed the dire need to take art out of the galleries.  People have this perception outside Pakistan that the arts circle here is very small here, he said, adding that he wants to change this perception.

'Let the art speak'

However, while the theme focuses on ecological decay in Karachi and initiatives have been taken to increase the public's interest in the art show, Zeeshan does not aim to make deliberate efforts to educate people about the hazardous effects of climate change. He would rather let the art speak to the people itself, which he believes will result in them developing a deeper connection with the art pieces.

"An architect's product may not merely be his work of art, but his way of highlighting an ugly issue," said Zeeshan. And when people will interpret the creation on their own, they will be better able to associate with it.

Exhibits

The 18-day long biennale will feature over 100 artists and 90 mega projects. Moreover, musicians, architects, gardeners, dancers and other performing artists have also been approached to partake in the event.

"They all connect with art in different ways," said Zeeshan, adding that a lot of international artists, writers and curators will also attend the biennale and hence, the show is likely to leave a profound impact on the public's mind. 

Published in The Express Tribune, October 24th, 2019.
COMMENTS
Comments are moderated and generally will be posted if they are on-topic and not abusive.
For more information, please see our Comments FAQ