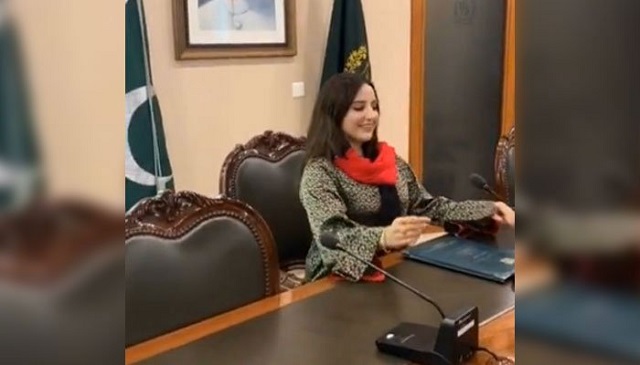 ---
How and by whom the Ministry of Foreign Affairs (MoFA) was made into a photo-shoot venue for TikTok star Hareem Shah has been taken note of by the Prime Minister's Office.

The prime minister has ordered a probe into how Shah was allowed into the consular-only premises and provided the full service required to record a video that, as expected, went viral.

In the footage, she can be seen sitting on the chair used by the foreign minister.

WATCH: Three PIA flight stewards grounded over 'indecent' videos

The inquiry will ascertain how and why she was allowed to enter the conference room  and record the video.


"I managed to get inside the premises and asked someone to please record the footage...I'm not aware of their position," she told a local television channel following the incident.




Responding to how she was able to get inside the premises, she said, "Look I was granted permission and went in alone. I'm a Pakistani citizen and it is my right to have gone there...I did nothing wrong."



#HareemShah hareeem shah response on her contradict video. She said " as no body stops me from making video there so it was her right to do so.." #happytabdili pic.twitter.com/IGTuqXErH1

— Moavia Yaqub (@bin_yaqub777) October 23, 2019
Twitter storm
The video stirred a Twitter storm as #HareemShah became the top trend in the country with users of the micro-blogging site weighing in.
What foolery is this! Absolutely ridiculous. Heads must roll.pic.twitter.com/JGXDJgzT1f

— Ali Salman Alvi (@alisalmanalvi) October 23, 2019


Journalist Omar Quraishi hit out at the government for failing to take action against Shah, citing how Pakistan International Airlines and Airport Security Force staffers had been taken to task for doing the same.


Moral of the tale - the PIA staffers and the ASF lady officer should all have been PTI supportershttps://t.co/oNq9vMrFcT

— omar r quraishi (@omar_quraishi) October 23, 2019
So This is #NayaPakistan 😂 Pakistans famous Tiktok girl Hareem Shah coolly made a Tik Tok video with Punjabi & Hindi songs playing in background inside the Pakistan Ministry of Foreign Affairs Conference Room 😂 #HareemShah #TikTok pic.twitter.com/EcqAf4GoMT

— Rosy (@rose_k01) October 23, 2019
If someone have high level approach then No need to take permission..#HareemShah pic.twitter.com/BqvgcMtyjX

— JavedQaimkhani (@QaimkhaniJaved) October 23, 2019


Journalist Mehr Tarar also spoke out saying, "Why'd she be not seated in the visitors' waiting room, and why was she allowed to record this tamasha in a conference room of one of the most high-security institutions of Pakistan?"


Why'd she be not seated in the visitors' waiting room, and why was she allowed to record this tamasha in a conference room of one of the most high-security institutions of Pakistan? https://t.co/pRTjp5G67m

— Mehr Tarar (@MehrTarar) October 23, 2019