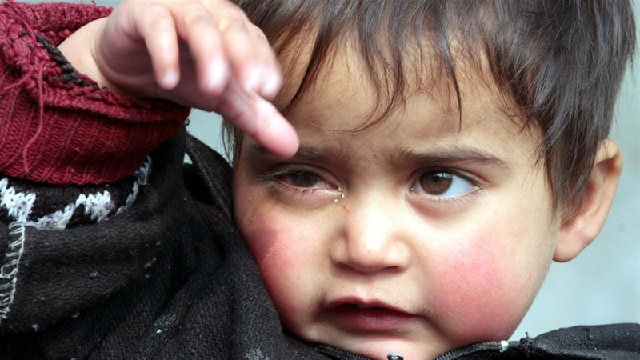 ---
The youngest victim of the ongoing brutality in occupied Kashmir is 18-month-old Hiba Nasir – whose eye was severely damaged by pellet rounds fired by Indian occupation forces, reported Al Jazeera.

On November 23, Hira's eye was damaged by pellets fired near her home in Kapran, a village in the Shopian district in Indian Occupied Kashmir (IOK).

"There was heavy tear [gas] outside and we all felt choked. The kids started vomiting and were struggling to breathe," 30-year-old Mursala Jan – Hiba's mother - said.

She was afraid her children would run outside, so she tried to keep them near her. She was holding Hiba when the pellets struck her eye.




"When I saw them vomiting, with their eyes turning red, I opened the door of the room and took them towards the corridor. We were in the corridor when the pellets came towards us. I pushed my son aside and he fell down. I tried to shield Hiba with my hands but the pellets had already turned her face bloody.

"I went out and shouted. A group of young boys saw her and took her to the hospital on the bike in another district. It was after a while that I was able to reach the hospital from where she was referred to the main city of Srinagar."

She said her daughter is too young to understand what happened but has not been sleeping well since that day.

"I don't know what her future will be like. What will she do with darkness in the world? She is too young to even tell me where it hurts. She just points her finger to her eye. She refuses to close her eye even once."

"Maybe it hurts her too much when she closes her eye."

Hiba's few words include "biscuit", "mama", and "eye".

"I wish that the pellets had hit me instead of her. It has taken away my peace to see my little girl suffering. How would she come to terms with her disability for life, if she does not gain her sight completely?" said Mursala Jan.

"These things will haunt her in the future and they have started haunting me now. No one cares about it, my child is a number, among thousands of others who have lost their light because of pellets."

More than 6,000 people – mostly teenagers – have been struck by pellet guns and have fully or partially lost their eyesight, over the past few years.

In 2016, Hiba's teenage cousin was also blinded during a civilian clash.

Mursala Jan said that she noticed dozens of victims in the ophthalmology ward when she took Hiba to the hospital for her first surgery.

December 11 – the date of her second surgery - will determine if Hiba's sight can be restored.




Doctors informed her mother that the 18-month-old may permanently lose vision in her right eye.

"She has suffered corneal perforating injury, an anomaly of the cornea resulting from damage to the corneal surface. When a pellet enters the eye, it makes a hole," the surgeon operating on Hiba, said.

"She has one pellet inside her eye. The eye is sensitive like a water ball. There is always a risk. We have performed one surgery on her and multiple surgeries need to be performed. She is perhaps the youngest pellet victim we have treated."

Vijay Kumar, advisor to the governor of the Jammu and Kashmir state said he has talked to some doctors and also announced the compensation, referring to the injury as "collateral and unfortunate".

"What can be more painful for a toddler's mother?" said Mursala Jan. "I know she is in immense pain and she doesn't even know how to express it."