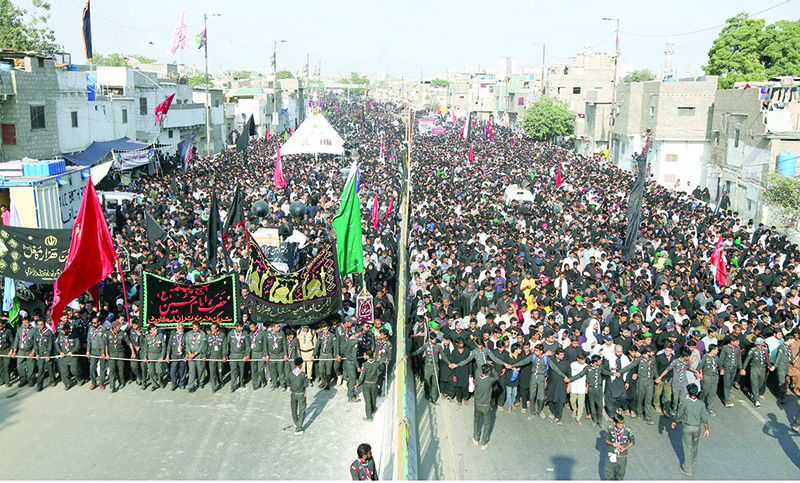 ---
KARACHI: The central procession of the Chehlum of Hazrat Imam Hussain (RA) culminated peacefully under tight security in Karachi on Sunday.

Led by the Buturab Scouts, the procession set off from Mehfil-e-Shah-e-Khurasan, passed through its traditional route and culminated several hours later at the Hussainian Iranian Imambargah in Kharadar.

Before the mourners started marching, Maulana Muhammad Raza addressed the central majlis at Nishtar Park, where he highlighted the great sacrifices rendered by Hazrat Imam Hussain (RA) and his family members.

The procession then started at Mehfil-e-Shah-e-Khurasan and reached the Mazar-e-Quaid's VIP Gate, where the participants offered Zuhrain prayers lead by Allama Ahmed Iqbal.

Later, the procession continued along the route and was joined by several smaller processions from different areas of the city.

Medical camps and water stalls, known as sabeels, were set up along the route of the procession while strict security arrangements put in place. More than 5,000 police personnel were deployed on security duty while a large contingent of Rangers personnel was also part of the security arrangements.




Snipers were posted on the rooftops of buildings along the route, while the procession was monitored via CCTV cameras from the central command and control centre. Meanwhile, the procession was also monitored via helicopters and mobile phone services were blocked in the surrounding areas.

All roads and streets along the route of the procession were barricaded by placing shipping containers. All markets and shops along the route had already been sealed a day earlier.

Rangers DG Major Umar Bukhari inspected the security arrangements before the procession commenced. Speaking to the media, DG Bukhari said that no one will be allowed to disturb the peace in the city. He added that there were no tangible threats to the Chehlum procession, but they had nevertheless inspected the route and found the security arrangements to be satisfactory.

Published in The Express Tribune, October 21st, 2019.