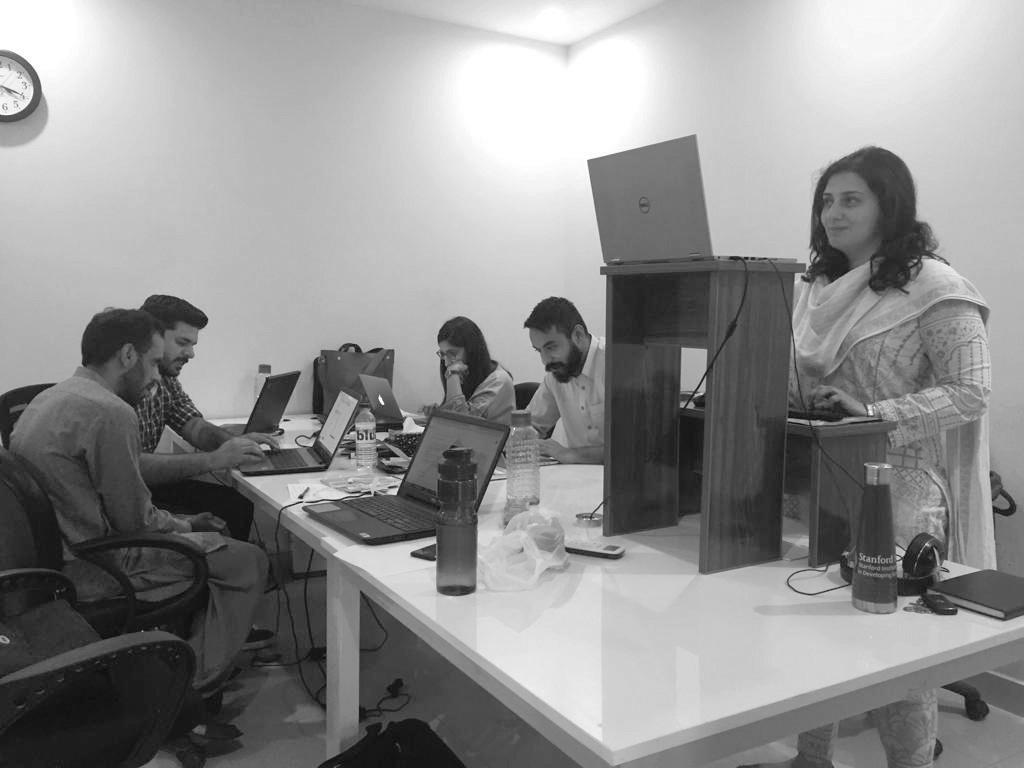 ---
PESHAWAR: As we reach new summits of advancement, it is safe to say that women everywhere have remained in the vanguard of technological development; discovering new avenues and changing the world one unique idea at a time. One such woman, Suniya Sadullah Khan, a PhD student from district Charsadda of Khyber Pakhtunkhwa, had an epiphany that transformed the local blue-collar industry.

"I was waiting tables while studying on a scholarship in the UK. It is there that I saw how much respect people give to restaurant workers and domestic help," the ambitious student told the Express Tribune. "When I returned home, I wanted to take the idea forward and do something to simplify the work seeking process for women associated with the blue-collar industry in Pakistan," she added.

Rising from the slums, shooting for the stars

Khan, who's pursuing her PhD in Aerospace Engineering, is the founder of MAUQA ONLINE, a website that connects employers to a database of women looking to work in restaurants or as domestic help. After the project's resounding success in Islamabad, she hopes to extend its services to Karachi and Lahore as well.

For a country like Pakistan, where the hurdles for women in the workforce are plenty, Khan's initiative holds the potential to help ameliorate the labour market considerably streamline the job hunting process for those working as waged labourers.

In terms of the labour market, a report by the Pakistan Bureau of Statistics shows that the employment to population ratio in Pakistan, for both men and women declined from 49.8% in 2006-07 to 48.9% in 2017-18 and lingered close to 50% during the rest of the period. The employment ratio for men scaled down from 79.6% in 2006-07 to 77.2% in 2017-18. Whereas the ratio for women's employment which increased during 2006-07, followed a similar trend till 2014-15 only to decline by hair in the year 2017-18.

On the other hand, the unemployment rate shows a rising curve from 5.1% in 2006-07 to 5.7% in 2011-12 but loses steam in the last three years. Where male and female unemployment rates exhibit a similar pattern, the rate is relatively higher for the latter than the former and the gap between male and female unemployment shows no signs of shrinking.






However, the last decade has also constituted greater penetration of mobile phones and the internet in Pakistan, which has created new avenues and allowed businesses and digital services like that of Khan's to transform the local employment landscape. According to the latest statistics by PTA's telecom indicators, the number of mobile phone users in Pakistan has reached 162 million subscribers, while approximately 72 million people subscribe to 3G/4G internet in the country.

As per Rukhsana Nader, President Khyber Pakhtunkhwa Women Chamber of Commerce and Industry, they have approximately 400 women registered as members working in the business sector in Peshawar. Some of these women have been using the web and social media platforms like Facebook to effectively market their products and services and have also been taking orders online, which has allowed them to reach a greater clientele as compared to traditional means of marketing.

"Social media business for women is not an easy task for women in Peshawar due to cultural complexities yet some girls have started their businesses and they've seen great results," said Nader. "For example, one of our members opened a restaurant in Peshawar and has now expanded to taking orders online."

Nader also informed that organizations like Small and Medium Enterprise Development Authority (SMEDA) and some donor agencies have also been actively working to assist women with financial constraints to set-up their own business. "They provide training and organize exhibitions in Peshawar and across the country to showcase the products and handicrafts manufactured by women in K-P," she told The Express Tribune.

Talking to The Express Tribune on the matter, Facebook's Politics and Government Outreach Manager for Asia-Pacific, Roy Tan, said that it's good to see that women in Pakistan and especially in K-P are keen to know and reap the benefits of social media.

"A small video clip advertising your product on social media can attract customers across the Globe. It is also the easiest and the cheapest means of advertising," Roy added.

How this tech buff's leap of faith announced Karachi on the digital landscape

According to Khyber-Pakhtunkhwa Special Assistant to Chief Minister on Information Technology, Kamran Bangash, around 40 companies have so far contacted him to launch their businesses in K-P. He further informed that a budget of around Rs. 80 million has been allocated for Information Technology in the year 2018-19, adding that various incubation centres have also been set up in K-P with the first Business Processing Outsource (BPO) being established in Peshawar to facilitate people with brilliant ideas.

He also informed that two women from K-P have been nominated for the IVLP programme in the US so far, owing to their technological expertise. Seeing the potential, his office is working on providing the people of K-P access to free Wi-fi services at certain places, which he believes will encourage students and businesswomen to explore new horizons.

"Our priority is to cover the 50 % population of women in K-P like the government and IT universities are doing. We want to encourage women-led businesses and particularly those operating through social media", Bangash concluded.

Published in The Express Tribune, October 21st, 2019.