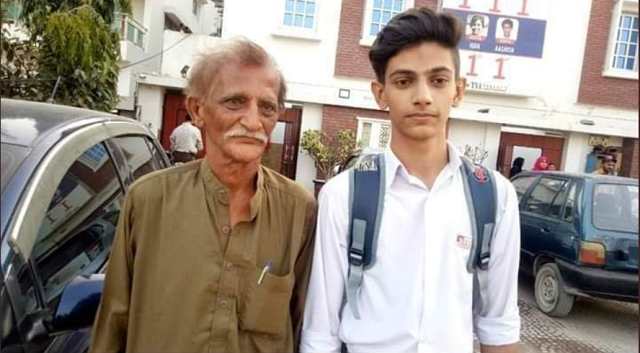 ---
They say hard work always pays off even in the face of seemingly insurmountable obstacles.




Anas Habib, a resident of Hussainabad and the son of a newspaper hawker in Karachi, has managed to bag the top position in this year's Higher Secondary School Certificate Annual Examinations Part-ll.


Anas scored 969 marks out of a possible 1,100 in the Commerce group exams held under the Board of Intermediate Board of Education Karachi (BIEK), clinching the top position among 43,021 students.


His father, Muhammad Habib, sells newspapers in buses and barely manages to make ends meet and pay for his son's education.


As news of Anas' accomplishment broke, social media was soon flooded with comments lauding his remarkable achievement.

Pakistani students clinch top slots in music, speech competitions in China

Prime Minister Imran Khan's special assistant, Sania Nishtar, also congratulated Anas on Twitter and hinted at a scholarship opportunity for the talented youngster.


Congratulations Anas Habib. Very proud of you. It is for such students that the @Ehsaas_Pk undergraduate scholarship scheme is being launched within the next 2 weeks. Tuition fee&stipend for books and living expenses included in thousands of scholarships. More details shortly! https://t.co/Kkpzi8SyWE

— Sania Nishtar (@SaniaNishtar) October 20, 2019


Another Twitter user, Tariq Zameer, hailed Anas' achievement as a moment of pride for Pakistan.

https://twitter.com/TariqAmb/status/1185783892172836864

According to a BIEK statement, a total of 43,021 students were registered and 41,985 appeared for the examinations.

Of these, a total of 12,888 successfully passed the exams. A total of 110 students achieved A-1 grade, 1,084 A-grade, 2,696 B grade, 4,262 C grade, 4,230 D grade, and 506 E grade.