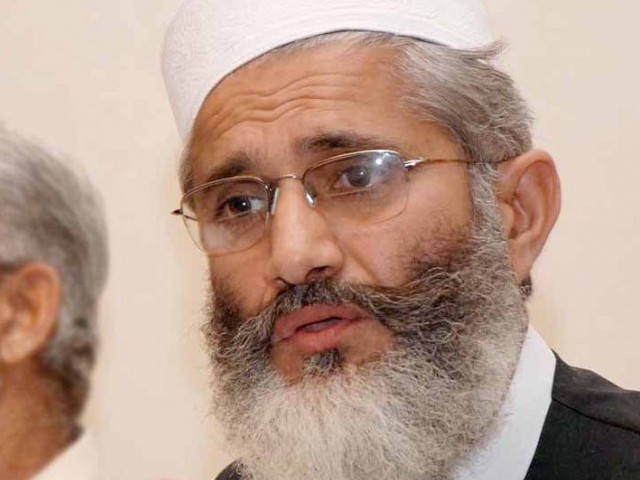 ---
LAHORE: Firing a broadside at the Pakistan Tehreek-e-Insaf (PTI) government, Jamaat-e-Islami (JI) chief Sirajul Haq said more change is inevitable as the nation desires a 'real change' instead of a cosmetic one.

"Issues will not be resolved by changing a few ministers. The PTI is reaping what it had sown and history is repeating itself," Haq said while addressing a training workshop for members of the JI's student wing, Islami Jamiat-e-Talaba (IJT). He was accompanied by JI deputy chief Dr Merajul Huda.

Haq said a worn-out system could not solve problems and poverty could not be eliminated with empty slogans and dull politics. He called for providing the students with libraries and laboratories to prepare them for leadership and future.

He claimed that the government had lost its senses with the mere announcement of protest by Jamita Ulema-e-Islam-Fazl and delivered nothing expect making false promises.

Haq noted that with each passing day, the control of government on departments is weakening, while police stations are being sold, according to the past practice.

He maintained that in the previous governments bribes had to be paid for illegal jobs, but now money has to be paid for getting legal work done.

Commenting on the crisis in Kashmir, Haq said lives of Kashmiris have become miserable as they have been brutally oppressed during the past 76 days but the government is paying no heed to the matter.

The senator said the entire nation is awake and standing with the people of held valley and that it is responsibility of the PTI government to unite the people on Kashmir.

"Jihad should have been announced while preparing a roadmap for Kashmir's freedom and the government should have moved to the last resort to free Kashmiris from the Indian rule."

He said that erecting bridges and plazas and constructing roads was easy but training the nation was a tough job.

He pointed out that infidel forces had termed leading life according to Quran and Sunnah as radical Islam. He observed that the government spoke about introducing reforms in seminaries but did not give a penny to hundreds of thousands of students studying in madressahs.

Haq said the government educational institutes lacked government's patronage whereas the budget for higher education and universities has been reduced. "Reduction in education budget has deprived the poor and middle class students of higher education," he said.