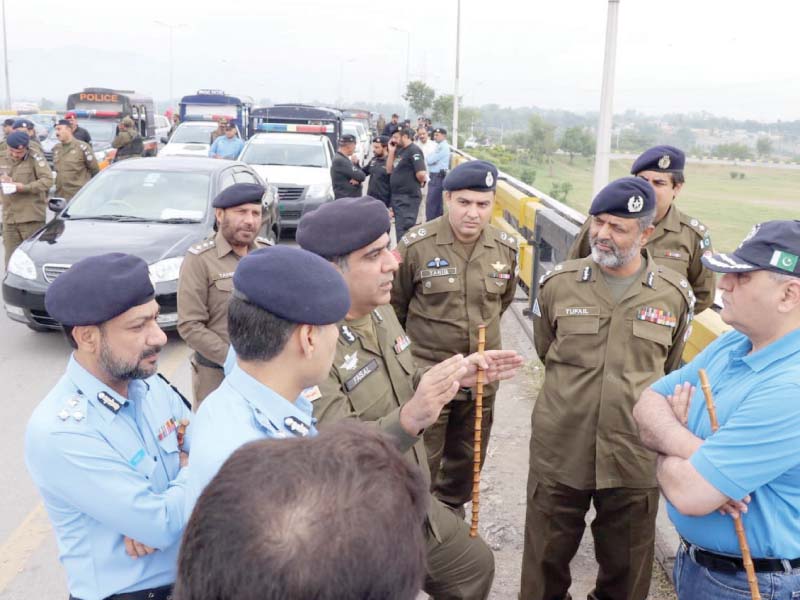 ---
RAWALPINDI: After putting their heads together in a number of brainstorming sessions, top brass of the police from the twin cities have developed a strategy to deal with 'Azadi March' scheduled to reach the capital later this month.

The spokesperson Islamabad police said that the police of Islamabad and Rawalpindi had prepared a joint action plan for maintaining law and order during the course of Azadi march.

Islamabad IG Amir Zulfiqar, Rawalpindi RPO Ahsan Tufail and CPO Faisal Rana have devised a joint strategy to maintain peace, law and order in case the Azadi march comes to the twin cities.

The top cops in blues and greens visited Faizabad Interchange on Saturday to make an on-ground survey of the point where law enforcers and marchers will come face-to-face.

Islamabad Inspector General (IG) Amir Zulfiqar said that nobody would be allowed to close the roads and restrict movement of people.

He said that staging protest was everybody's fundamental right but the protesters taking law in their hands would be arrested. IG expressed, "We will not let anybody enter federal capital in the form of groups or rallies." He maintained that supremacy of law would be established at every nook and cranny of twin cities and said that Standard Operating Procedures (SOPs) issued by interior ministry would be implemented at all costs.

Published in The Express Tribune, October 20th, 2019.