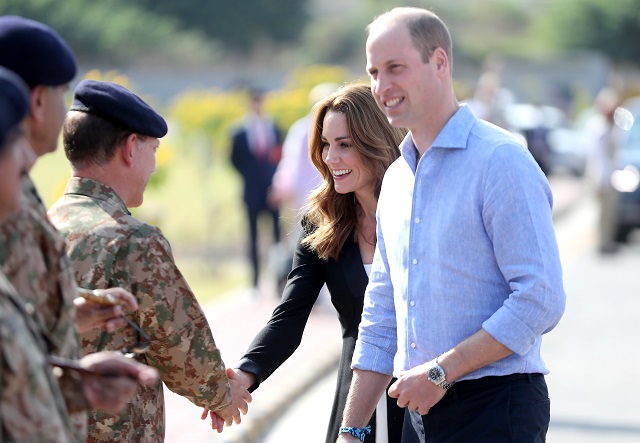 ---
ISLAMABAD: Britain's Prince William and his wife Kate Middleton left Pakistan on Friday after visiting an army dog training school, a day after a severe thunderstorm forced them to change their schedule and stay the night in Lahore.

A planned visit to a military post in the Khyber region on Friday morning was cancelled because of the change in their schedule, but the prince said learning about the security situation in the country was an objective of the visit.

"What happens here in Pakistan directly correlates to what happens on the streets of the UK," William told British media after he and Kate saw dogs that are trained to sniff out explosives.

"We are involved with the Pakistanis for a very good reason, it will actually keep people safe back in the UK."






PHOTO: Reuters

Earlier in the day, the royal couple arrived in Islamabad, after turbulence forced the couple to stay overnight in Lahore in a change to their tightly-choreographed itinerary.

The RAF Voyager plane tried to land twice, at Rawalpindi air base and Islamabad international, before it decided to return to Lahore.

Royal couple's plane twice aborts Islamabad landing

William, who has previously worked as a search and rescue helicopter pilot, told reporters after they landed that he and Kate were fine, joking that the problems had been caused because he was flying the plane.




Thursday's aborted flight was described by a Reuters photographer on board as one of the most turbulent he had experienced in 25 years of regular flying.

The couple stayed at Lahore's Pearl Continental Hotel on Thursday evening, along with journalists, Kensington Palace staff and foreign ministry officials.

After arriving in Islamabad, the royal couple visited SOS Children's Village for a second time during their trip and distributed gifts to the children.

The next stop on their itinerary was the Army Canine Centre which is modelled on the UK Defence Animal Training Centre.

They joined dog handlers as they trained dogs to recognise and scout out hidden explosive materials, and then took some of the puppies through their paces on an agility training course.


At the Army Canine Centre in Islamabad, The Duke and Duchess of Cambridge joined dog handlers as they train dogs to recognise and scout out hidden explosive materials, before taking some of the puppies through their paces on an agility training course #RoyalVisitPakistan pic.twitter.com/EwmeCGbVmK

— The Duke and Duchess of Cambridge (@KensingtonRoyal) October 18, 2019


In a picture posted by journalist Rebecca English, the royal couple can be seen watching the dogs during training and taking a tour of the facility.



The couple are watching some of the dogs and puppies in training 🐕 pic.twitter.com/MTZkmMmeps

— Rebecca English (@RE_DailyMail) October 18, 2019

William and Kate also highlighted education and the impact of climate change during their stay in Pakistan.

Pakistan's government hopes William and Kate's visit will help boost the country's image as a tourist and business destination.

"In terms of Pakistan's positive international image, the visit has been an unmitigated success," said Rifat Hussain, an analyst and a former professor at Quaid-e-Azam university in Islamabad.

The royal visit, which was organised on the request of UK's Foreign and Commonwealth Office, was the first since Prince Charles and Camilla Parker Bowles' 2006 tour of Pakistan.

Prior to that, Prince William's grandmother, the ruling monarch Queen Elizabeth II, visited Pakistan in 1961 and again in 1997.

Other memorable royal tours for Pakistanis remain the visits by Prince William's mother, the late Princess Diana, in 1991, 1996 and 1997.
COMMENTS
Comments are moderated and generally will be posted if they are on-topic and not abusive.
For more information, please see our Comments FAQ