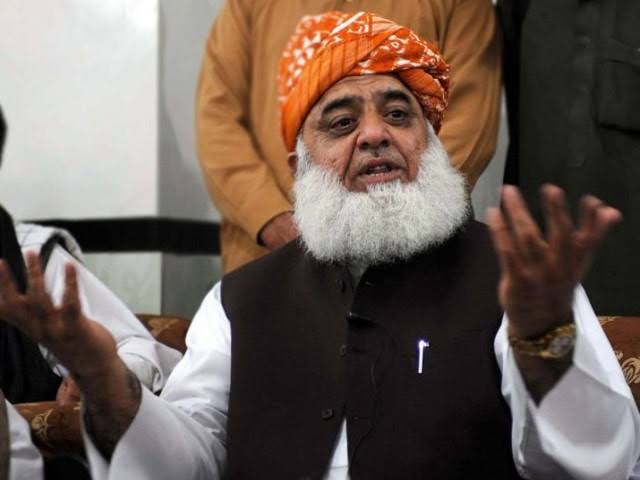 ---
ISLAMABAD: Prime Minister Imran Khan on Wednesday appointed Defence Minister Pervez Khattak to hold talks with Maulana Fazlur Rehman on his 'Azadi march', but the offer was immediately repudiated by the Jamiat Ulema-e-Islam-Fazl (JUI-F) chief.

Prime Minister Imran, while chairing a meeting of the PTI Core Committee at the Bani Gala Secretariat, formed a four-member committee, headed by Khattak and comprising senior party leaders from all the four provinces, to reach out to the JUI-F chief.

Fazl has announced that his party's rally would march on Islamabad on October 31, demanding the resignation of Prime Minister Imran Khan. Other opposition parties, including the Pakistan Muslim League-Nawaz (PML-N) and the Pakistan Peoples Party (PPP), have announced their support for the march.

The prime minister discussed the issue with top party leaders, saying that the government would listen to the legitimate concerns of the JUI-F chief. "In the wake of the challenges – economic and Kashmir situation – the country could ill-afford any internal strife," he said.

Political solutions

Addressing a press conference later, Foreign Minister Shah Mahmood Qureshi confirmed the government's decision to engage with Fazl, saying that a small political committee had been formed "to get in touch" with the JUI-F chief.

"We are a political party and we are fully capable of and willing to deliver a political solution to political matters," he said, stressing the need for finding political solution to conflicts. "Pakistan is now fighting the Kashmir cause at international fora so a unified stance must be presented on it."

Qureshi referred to the PTI's own sit-in in the federal capital in 2014 and said that such moves rarely meet with success. "If someone thinks that with governments can be sent packing with sit-ins, they are wrong. We have a 126-day experience of this. We are not novices," he said.

"It is not that we fear them [the JUI-F march participants], I must stress on that," he added. He urged Fazl to come to the negotiating table, assuring that "we are ready to listen to it [JUI-F's concerns] and if a reasonable solution emerges, we will accord that a priority".

Echoing the prime minister statement that current situation could not afford any internal political strife, Qureshi warned: "We have started witnessing an economic turnaround, and at this time if there is even a hint of instability, it will adversely affect our economy."

Referring to the situation in occupied Kashmir, he said: "we have to see whether we harm this larger purpose [Kashmir cause] in pursuit of a narrower, local agenda." He added: "In view of these factors, the government has decided to opt for a political engagement. Let's see what response we get."

Fazl rejects talks

The JUI-F chief has categorically rejected any possibility of holding a dialogue with the government until the resignation of Prime Minister Imran Khan.

Addressing a news conference along with Pashtunkhwa Milli Awami Party (PkMAP) chief Mehmood Khan Achakzai in the federal capital, Fazl said the ruling party's tactics to thwart the opposition's anti-government movement had failed and there would be no talks before the prime minister's resignation.

"If any state institution tries to create hurdles in the people's way then it would be assumed that the institution is not being used for the state but for someone else," he added.

The JUI-F chief also warned against the imposition of martial law in the country. "Let me be very clear. If an institution tries to impose martial law, we will turn the direction of the 'Azadi march' towards it," he said, insisting that he did not want a clash with any state institution.
COMMENTS
Comments are moderated and generally will be posted if they are on-topic and not abusive.
For more information, please see our Comments FAQ