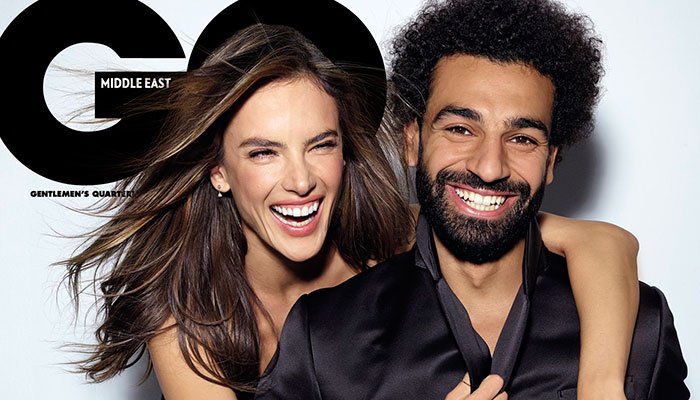 ---
Liverpool forward Mo Salah recently took a bit of a break from football and appeared on the cover of GQ Middle East with Brazilian model and television personality Alessandra Ambrosio. Great, isn't it?

Unfortunately, the cover can be called what in football terms is an "own goal." Meaning, he scored but might not have brought him any extra brownie points. The photograph is creating quite the controversy on social media, considering that it shows Ambrosio's arms wrapped around Salah.


#BehindTheScenes 😃 pic.twitter.com/hDVX6phX5L

— Mohamed Salah (@MoSalah) October 12, 2019


Now, the pose can easily be disregarded as friendly and harmless. But it has raised concerns for many who are pitting the Muslim sports superstar against Rania Youssef and other Arab women who have been bashed for similar decisions.

The 27-year-old has been dubbed "Man of the Year" by the publication. According to its latest issue, Salah is "Living proof of the power of positive thinking."


The article reads, "Like Christiano Ronaldo and Lionel Messi, he [Salah] is a talismanic presence in his national team, willing them, almost single-handedly, on to victory. If he's feeling the pressure, he isn't letting it show."
That's all well and good but Salah is an icon Muslim football fans across the world; an ambassador for the Middle-East. So much so that earlier this month, a die-hard fan actually converted to Islam after being inspired by Salah, reported
Stepfeed
.
Considering this, it comes as no surprise that the ace footballer is being bashed on Twitter, not only for the shoot with Ambrosio but also the "double standards in the Arab community" and his earlier stance on Amr Warda's sexual misconduct case. Salah had said what happened had been the Egyptian footballer's "mistake" and asked fans to "give him [Warda] a second chance."
On the other hand, Egyptian actress Youssef had to face five years in prison for wearing a sheer dress that revealed her legs. Another Egyptian actor Dalia Mostafa faced backlash for posting a picture of her upper body in a bathing suit. And then there was the Muslim blogger Dina Tokio who got death threats after taking her hijab off permanently.
https://www.instagram.com/p/B0LjnKJBAqo/
Salah's shirtless pictures are also being called out for not being accused of "public obscenity." Ironic. One user tweeted, "Arab men in particular have so much freedom in comparison to Arab women and that just makes it really hard to support them when they're celebrated, especially for things that women would get dragged to hell and back for."
https://twitter.com/indiosyncratic/status/1182972761398009856
Another disgruntled fan responded by asking people to imagine if there had been a married Muslim woman on the cover instead of him. Many of the responses that followed agreed that the same, seemingly harmless magazine cover, would have cost the woman her career and reputation.
https://twitter.com/ibraheem_batta/status/1182889266877091841
"If a famous Muslim woman was being held by a non-
mahram
man on the cover of a magazine, would she continue to be celebrated as Mo Salah is or would she be blacklisted by Muslim organisations (along with the entire u
mmah
)? What Islam are you all following? Why are there different rules in it for men?" questioned a user.
Egyptian actress (@RaniahYousief) gets dragged for wearing a revealing dress.

Yet #MoSalah wins #GQ Man of the Year despite supporting sexual predator Amr Warda.

Imagine the outrage if this pic was an Arab female with a male model's arm around her. #ArabHypocrisyAtItsFinest https://t.co/UPJwOg81Dv

— ✍️ Rachel McArthur (@raychdigitalink) October 12, 2019
She also questioned why Youssef was dragged down for her dress but Salah won
GQ's
Man of the Year, despite supporting an accused predator like Warda. "Imagine the outrage if this picture was an Arab female with a male model's arm around her! Arab hypocrisy at its finest," she posted.
https://twitter.com/mixedcleopatra/status/1182780969331429378
Another female fan claimed she wanted an "Egyptian woman to have the same photo shoot and get the same hype."
"We're just friends" have been syaitan's favorite quote to deceive Muslims into slowly removing the barriers between opposite sexes. https://t.co/hV0adA8ad2

— Yusri (@itsyusri) October 12, 2019
In fact, some men also jumped onto the bandwagon and bashed Salah for his apparently 'obscene' photos.
https://twitter.com/kirmani_ahmed/status/1182717617339019266
However, most of them simply lauded the player for his game.
COMMENTS
Comments are moderated and generally will be posted if they are on-topic and not abusive.
For more information, please see our Comments FAQ